2000 Stellafane Convention
The 65th Convention of Amateur Telescope Makers on Breezy Hill in Springfield, Vermont, the 2000 Stellafane convention, was held Friday, July 28th and Saturday, July 29th, 2000. Hosted by the Springfield Telescope Makers, Inc. Here you will find Reports, Photos and Videos of the 2000 Convention.
Thanks to All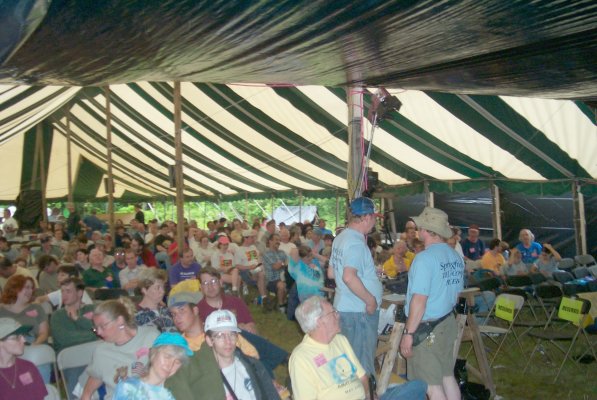 The Springfield Telescope Makers wish to extend hearty thanks to all of this year's Stellafane Convention Volunteers. You enhanced the event in many ways with your presence and hard work. For this, and for having allowed us the real pleasure of getting to know you, thanks a million! 'Till next Stellafane, we wish you clear skies and all the best.
Lost & Found
LOST: A beat-up brown coarse cloth and vinyl camera bag containing a wide angle lens and a pair of folding binoculars. If you've found such a bag please let us know. Thanks!
Program
The 2000 Stellafane convention program is available in PDF formatted files: 2000 Convention Bulletin and 2000 Site Map.
Here is the 2000 Convention Photo gallery, with candid images taken by the Springfield Telescope Makers and many attendees who send us photos they have taken.
Reports from our attendees are posted here, giving you another view of the events and differnt observations of the convention.
Often considered the heart of the Stellafane Convention, the Optical and Mechanical Competition gives Amateur Telescope Makers a chance to show and share with others what they have done, and our expert judges pick the best in several categories to for recognition with awards. This page shows all the telescopes entered in the competition, and the awards that many have won.
It takes a lot of work to put on the convention, and we would like to thank all the volunteers and members who work so hard before, during and after convention to make it a success. Here's a photo gallery of many of the people who made it happen this year (and the majority who have made it happen for many years). Thank you all very much!