2003 Stellafane Convention
The 68th Convention of Amateur Telescope Makers on Breezy Hill in Springfield, Vermont, the 2003 Stellafane convention, was held on Friday, August 1st and Saturday, August 2nd, 2003. Hosted by the Springfield Telescope Makers, Inc. Here you find Reports, Photos and Videos of the 2003 Convention.
Once Again, It's Stellafane!
The front gate is open, we roll on through
Leading this anxious train
Over the dirt road with our camping load
Once again, it's Stellafane
Our site has been chosen, our tent quickly raised
With the spot being each year the same
And when done with our labors, we greet our weekend neighbors
Once again, it's Stellafane
On the hills and slopes, spread great telescopes
Proudly awaiting those late night hours
And conversations binding on fine mirror grinding
From the Clubhouse to Tuttle Towers
We come at will, to Breezy Hill
For it's the place we wish to be
Whether veteran or new, we wait in line for the view
Of the celestial wonders to see
And even if those skies displays nothing for our eyes
Bringing clouds, fog, even rain
We will not be down, for look around
Once again, it's Stellafane

"Once Again, It's Stellafane"
by
Charles Sawyer President
Downeast Amateur Astronomers
Downeast Observatory, Pembroke, Maine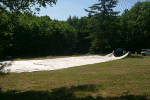 Program
The 2003 Stellafane convention program is available in PDF formatted files: 2003 Convention Bulletin and 2003 Site Map
The Springfield Telescope Makers would like to give special thanks to Mike Hill, Mario Motta and David Siegrist from the Amateur Telescope Makers of Boston and Richard Parker from the Astronomical Society of Greater Hartford for volun­teering to give the ATM short-talks.
Here is the 2003 Convention Photo gallery, with candid images taken by the Springfield Telescope Makers and many attendees who send us photos they have taken, including three nice panoramas taken by attendees.
We have videos of several presentations at the 2003 convention available, including the Shadogram, Keynote and technical Talks.
Convention reports from our attendees are posted here, giving you another view of the events and observations that various attendees had.
Often considered the heart of the Stellafane Convention, the Optical & Mechanical Competition gives Amateur Telescope Makers a chance to show and share with others what they have done, and our expert judges pick the best in several categories to for recognition with awards. This page shows all the telescopes entered in the competition, and the awards that many have won.
Thanks to the 2003 Telescope Competition Judges