2006 Convention Reports
Here we present reports contributed by convention attendees, giving another perspective on what went on or was important to them. We haven't gotten many reports this year.
The Springfield Telescope Makers would like to acknowledge all the thank you e-mails we have received after the 2006 convention. Typically brief, they generally offer thanks or congratulations on a convention well done. We appreciate getting these. We have also received a few suggestions for improvements, and we appreciate that feedback also.
By Doug Zubenel

who traveled from De Soto, Kansas to his first Stellafane this year
Hello!,
Well, it is common knowledge now, but before I retired to my tent Sat. night at Stellafane, looked up at a clear patch of sky surrounding Cygnus, and there was Chi Cygni blazing brighter than I had ever seen it before (and it was STILL RISING IN MAGNITUDE)!!!
Did anyone else at Stelli report seeing it there?
Just last night from home here in De Soto, KS, Chi is still brighter than nearby Eta Cygni. What a treat!
By Dave Mitsky (AELC, ASH, DVAA) of Pennsylvania
The 2006 Stellafane ATM Convention turned out to be a very enjoyable one. It was a time of seeing old friends and communing with the stars.
One important new addition to the Stellafane grounds was the newly completed Flanders Pavilion. This huge structure will ensure that Stellarain won't create the problems with the talks and mirror grinding demonstrations that it has sometimes caused in the past. The old tent will not be missed.
The observing on Friday night was quite good, which surprised just about everyone given how unpromising the varying forecasts had been. I spent most of the night on the lower observing field and at the McGregor Observatory. By the time I made it up to Breezy Hill, most of the competition telescopes were no longer in operation but I was fortunate enough to have some great wide-field views through the two 6" f/5 Newtonian binoculars entered in the competition (one of which took first places in all three major categories, a very rare feat indeed). I finished the night observing with Scott Ewart (and his prize winning 12.5" split-ring equatorial Newtonian) and Sue and Alan French (and Sue's 105mm Astro-Physics Traveler). My last view was of a pair of dark nebulae to the east of Albireo that Sue chose as a parting DSO.
The cosmologist and author Dr. Timothy Ferris was at Stellafane for the first time filming a documentary on amateur astronomers. (His last book was a tribute to our breed.) He and Al Nagler of Tele Vue Optics had a long conversation while one scene was being shot on Saturday afternoon.
Saturday night was partly to mostly cloudy until I decided to be the clear sky sacrifice and leave the Stellafane site. (I was extremely tired anyway from observing until 4:00 a.m. that morning.) By the time my significant other and I had returned to our bed and breakfast inn just outside of Chester, which was sometime after midnight, the skies were mostly clear.
During the course of the convention, I heard informative talks on a number of varied topics and spent some time engaged in interesting conversation with other Stellafane regulars such as Phil Harrington and Al Nagler.
By Tina Rugelis and Family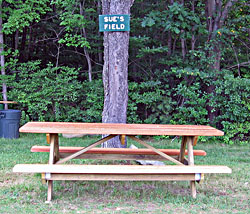 The 2006 Stellafane Convention was dedicated to Sue Rugelis, a longtime volunteer and then club member who passed away unexpectedly, shortly after the 2005 Convention. We invited Sue's daughter Tina Rugelis and her family to attend convention this year and be present for the remembrance of Sue at the Saturday evening program. She sent this letter along to be posted on the web site:
To my new Family at Stellafane,

I wanted to thank all of you for the kindness and support you showed me and my family while we were at Stellafane this year. It was truly a difficult trip for me, camping in her spot, without her, knowing that others would expect to see her there.

So many people stopped just to share a story or just to say hello and give condolences. That means so much, it helps to fill a void that remains since her untimely death. My grief remains, everyday gets a little easier.

The tribute reduced me to tears and humbled me beyond belief. It was so heartfelt...to see so many people standing and singing in her honor. I can't even begin to tell you what that meant. A man approached me after and simply said "You must be very proud"...no words were more true, I couldn't even speak. I never got his name..but I thank him nonetheless.

Mom's headstone is being made...a scene of her in a field with a tree in the foreground aptly marked "Sue's Field", her truck just nosing out with her KA2DQN plate visible. Albireo at her side with Cygnus the Swan descending toward her...taking the form of a swan as it draws near. It meant a lot to me to memorialize her that way...

Again, from the bottom of my heart to all of you....Thank You for everything. We hope to see everyone again next year.

Tina Rugelis and Family
Back to the 2006 Convention Page