Clearing Breezy Hill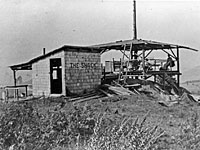 In the fall of 2010, some of the Springfield Telescope Makers were reviewing older photos. Upon seeing a photo showing the woods coming right up to the back of the clubhouse, Alan Rohwer exclaimed about "missing those trees".
Most current visitors to Stellafane don't realize that prior to 1982, most of Breezy Hill was forested, with just a very small area around and in front of the clubhouse having been cleared. Dennis diCicco, who was part of the photo review, took it upon himself to to provide the images below documenting the changes that occurred in November 1982.
Needing more space for convention activities, the club hired a professional logging company to remove the trees. Dennis recalls that they kept the logs as payment for their services. And after they were done, Breezy Hill was transformed from a typical New England forest to a rocky Vermont field.
Photos below by Dennis diCicco, STM.
Woods behind Clubhouse,
August 1970

Woods behind Clubhouse,
November 1982

Cleared Land, 2 weeks later,
November 1982

The four photos center and right were taken from the steel tower seen on the
right in the photo above.

Looking North,
August 1970

Looking North,
November 1982
Back to the Early History Page