Missing Russell Porter Watercolor
Porter Watercolor Painting Of The Garden Telescope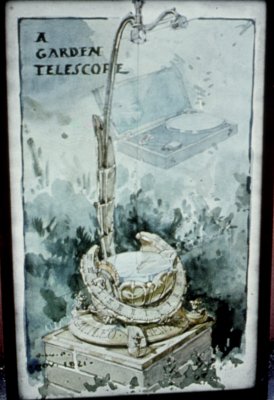 Do you recognize this watercolor painting by Russell Porter of his invention, The Garden Telescope?
Some time after 1970 the painting was taken from Stellafane and has not been seen since. This was before the museum at the Hartness House was opened in 1975, the date when we finally had a safe place to store and display our treasures. It is the only Porter watercolor of the Garden Telescope known to exist.
By now it may have passed on to someone not aware of its origins.
If you have seen this painting perhaps an explanation to the owner that the Springfield Telescope Makers would greatly appreciate having it returned would be just the stimulus needed. That way it can be displayed in the ATM museum for all convention goers to enjoy.
It can be shipped anonymously to:
Bert Willard, Museum Curator
Hartness House
30 Orchard Street
Springfield, VT 05156
Back to the Early History Page