The Heavens Declare The Glory Of God
1921 - 1928
by Bert Willard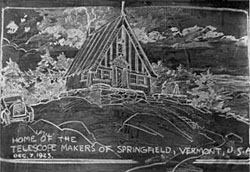 Porter's amateur telescope making followers had been transporting their telescopes to various observing sites on weekends beginning in 1921, all the while nurturing a homing instinct. Porter owned a small piece of hilltop on Breezy Hill outside of Springfield and there in the fall of 1923 they started building a bungalow where they could meet for observing and have a place to store their telescopes. Then in December 7, 1923 the first official meeting of The Springfield Telescope Makers was held at the home of Oscar Marshall. Porter was elected president, John M. Pierce vice-president, and Marshall secretary-treasurer. Although Gladys Piper had successfully finished her mirror, she had moved away in 1921, thus for many years the club was exclusively male.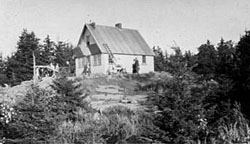 The winter of 1923-24 was extremely mild for Vermont standards and the men were able to complete the front part of the Bungalow in January. At the January meeting Porter presented the name, "Stellar Fane," shrine to the stars, for their new home. It had originally been proposed by Oscar Marshall1 and it soon became Stellafane. By summer, 1924 a kitchen had been added.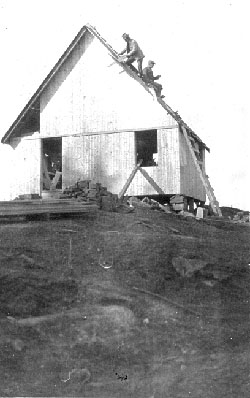 Two stories survive as to how Stellafane came to be painted pink. Either one could be true. One is the original members, strapped for cash, accepted whatever donation a local storeowner could make which turned out pink, or perhaps separate red and white. The other story from Porter's daughter, Caroline, is that Porter requested a light spruce gum pink to be mixed, but it came out too intense.
Porter was not an active church attendant. His deafness made it impossible to hear the sermons. One Sunday morning when he and Oscar Marshall were heading for Stellafane, they were approached by a deacon and asked whether they were going to church. Porter replied they were going to Breezy Hill and would not make any noise that would disturb him. He also reminded the deacon of the inscription on the gable of their shrine to the stars.
Some time before 1926 Albert G. Ingalls, an editor of Scientific American, became interested in making a small reflecting telescope2. A library search for instructions yielded practically nothing. What he did find that seemed most likely to appeal to the rank beginner were two articles in Popular Astronomy by Porter3,4 and a small book by Rev. William F.A. Ellison5, Director of the Armagh Observatory, in Northern Ireland. Armed with this literature he set about grinding a six-inch mirror and soon sought the advice of Porter, paving the way for further contact.
Then in 1925 Ingalls invited Porter to New York City so he could learn something about the telescope making goings on in Springfield, Vermont. Later, in June, Ingalls accepted the invitation to visit to Stellafane on assignment to glean what he could about the idea of amateurs building telescopes. So much did he gather from that meeting and so impressed was he about the potential for this new hobby to take hold that he was able to pull a feature article in the November, 1925 issue of Scientific American6. The front cover even showed Porter and other men studying the image of the sun, generously enlarged by artistic license to about three feet in diameter, formed in the upstairs bunkroom on the south side of Stellafane by a seventy-five-foot focal length mirror. The actual diameter of the solar image was about 7.5 inches.
That article did not describe how to make a telescope. Instead Ingalls simply set out the bait by describing the telescopes made by the members and how they enjoyed weekends at Stellafane, with their time divided between observing and eating meals prepared by member Everett Redfield. He did not have to wait long for responses.
Armed with scores of letters from readers requesting more articles and instructions on how to build a telescope, Ingalls set out again for Stellafane in November to recruit Porter in his efforts to help the readers get started in a new hobby. He even confessed that Porter worked on his 6-inch mirror, which was fighting his efforts to finish, and was able to bring it to proper figure in an afternoon.7 By December 10, he had received 314 letters from the United States alone with others from around the world requesting instructions on telescope making.7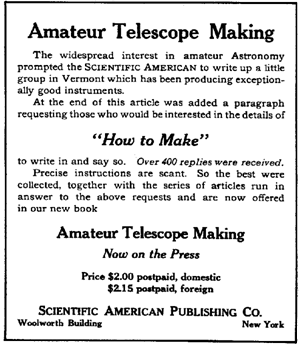 Porter immediately set to work on two articles which appeared in the February and March 1926 issues8,9 with detailed instructions and drawings on mirror making and telescope construction. Porter was invited to become a corresponding editor to Scientific American in anticipation of a need to supply guidance in a rapidly expanding hobby. However, it would have a ways to go to catch up with the amateur radio hobby, for in the same March issue of Scientific American there appeared a note saying there were then 15,110 licensed amateur radio stations in the United States.
It soon became evident that there was a growing need for a single source of all the supplies required by the amateur and one that would be willing to supply small quantities to individuals. Ingalls enlisted John M. Pierce, teacher of vocational training in the high school in Springfield and vice-president of the Springfield Telescope Makers, to step in to fill the role. By the February meeting at Stellafane Pierce reported he had already shipped twenty-three orders for mirror kits. He had received sixty-one inquiries from thirty states, the West Indies and Hawaii. Others soon followed from as far away as India, Tasmania, and South America.
By March Ingalls had received letters from nearly one thousand amateurs requesting information. Also, surprisingly, there appeared in the March, 1926 issue of Scientific American the first advertisement for Amateur Telescope Making, the book rushed into print in anticipation of widespread demand for instructions after Porter's two articles appeared.
3400 copies were printed and all were sold out by 1928. The little 102-page book contained the following parts:
Amateur Telescope Making
Part I
Mirror Making and Mounting
A Sun Telescope
Literature and Materials
By Russell W. Porter
Part II
The Amateur's Telescope
By the Rev. William F. A. Ellison
Director of the Armagh Observatory
In Northern Ireland
Part III
Methods of Silvering
U.S. Bureau of Standards Letter Circular 32
Part IV
Miscellany
By Albert G. Ingalls


Part V
Telescope Mounting from Automobile Parts
By Clarendon Ions


Part VI
A Telescope that Anyone Can Make
By John M. Pierce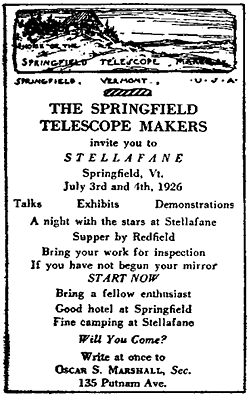 By summer, 1926, there appeared to be enough amateurs involved with mirror making that it was decided to invite them to Stellafane for a gathering on July 3 and 4, 1926. Twenty registered guests came from New England, New York, Maryland, and Virginia, and enjoyed the weekend showing off what they were building and seeking help where needed. Little did the local hosts know what they were launching that summer; that this vanguard of "TNs" (Ingalls' coined phrase for telescope nut) was merely the ripple before the growing waves of amateurs eager to practice their new hobby, that Stellafane would rise to the status of a mecca in the minds of many practitioners, that it would look quietly upon thousands of visitors over the course of the following decades.
Excerpting Ingalls' report of this milestone meeting:10
Mutual introductions having been exchanged, the amateur visitors at Springfield were first initiated into the mysteries of silvering mirrors. This is an art which has long been regarded as secret. If such has ever been the case, the secret is now out, for Russell W. Porter, leading spirit of the 'Telescope Makers of Springfield,' demonstrated before the visitors that it could be done in about half an hour, providing the conditions were right.
The visiting amateurs next inspected an apparatus for performing the knife-edge test by means of an electrically illuminated device invented by Mr. J. Watson Thompson, an attorney, of Cambridge, Maryland.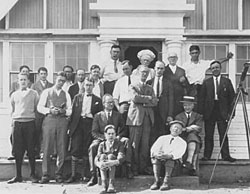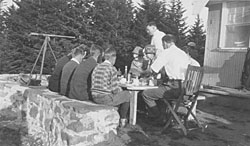 Telescopes were in evidence everywhere and these were eagerly examined, tried out on terrestrial objects and criticized. Some of the visitors next opened bags and brought out parts of their own work – mirrors and newly devised apparatus for testing them; also samples of pitch and abrasives which had proved especially efficacious.
Before dark the laureate-cook of the 'Telescope Makers of Springfield' announced supper. What a supper it was! Mr. Redfield … is king of the kitchen at Stellafane . He, like the rest, has made his telescope. He also makes johnny cake and enjoys cooking for the rest of the members.
Supper over, the amateurs were confronted by the night, for plans had been laid to stay up, like the traditional astronomer, until daybreak. The stars came out in myriads. Saturn's rings were, of course, the showpiece of the early evening. Later in the night came Jupiter, with three satellites easily visible and one in transit across the face of his disk. Then came Mars, ruddy but poorly visible due to temporary atmospheric conditions. The moon followed as dawn approached, and finally Venus, brilliant, white, dazzling, rose over the mountain ridge in the east.
The following day, the Fourth of July, was given over to further discussions. John Pierce, one of the leading lights of the Springfield group, gave a talk on the making of small lenses while the visitors sat in the shade of a row of deep green spruce trees which formed the edge of the primeval forest that covers the top of the mountain.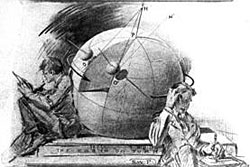 On the same afternoon the amateurs, tired and sleepy, but filled with many impressions about telescopes, optics, mirrors, prisms and no end of other similar things, made a tour about the village of Springfield, inspecting five telescopes which were mounted in the dooryards of the owners, instead on the mountaintop at Stellafane.
Meanwhile telescope making activities were beginning to spread across the states with clubs springing into existence in particularly concentrated pockets of activity. By December, 1926 Ingalls reported having traced more that 1500 people who had become involved in telescope making. He reported clubs had formed in Denver11, Chicago12, Los Angeles13 and New York City14. Photos of finished telescopes by proud amateurs were now being shown monthly in Scientific American. Ingalls even described his 6-inch tubeless Newtonian15 to convince readers that those without machine tools or a workshop could still built a rewarding instrument.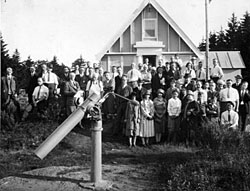 Members of The Springfield Telescope Makers continued to support the hobby by building and writing about new instruments. Don Patch built a Springfield Mount reflecting telescope, making the castings from the original design by Porter16. John M. Pierce described his 4-inch Cassegrain17 which may have been the first made by an American amateur. One day Porter set up a Foucault pendulum in his office at the Jones and Lamson Machine Company to demonstrate the rotation of the earth. It was twelve feet long, suspended from a steel I-beam in the ceiling, with a 40 pound cast iron ball. It could demonstrate in just a few moments the table rotating underneath. When word got out "that 'Porter had a 'thingumbob' in his office that showed the earth turning over,' I was besieged by the mechanics in the shop, who came to me asking to be shown."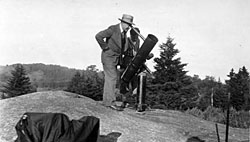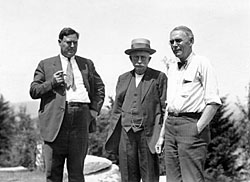 "The demonstration gave quite a little thrill. It is so simple that the men all grasped its significance, and they would go away shaking their heads, saying, 'Well, I'll be darned'."18
The article in the July, 1927, Scientific American issue, describing how to build the pendulum was followed by a second describing several sundials19. He showed a photograph of his boss and former governor of Vermont, James Hartness, with two sundials of his own design. Four of the five remaining models were Porter's and were created along the path to attain more precise time from the sun.
In 1927 the second convention was held at Stellafane with fifty-nine registered attendees. This year more people brought their families and camped out. During the day Venus was examined with one of the guest's telescope even while the beanhole beans were simmering nearby for the evening repast. A. W. Everest of Pittsfield, Massachusetts talked about his discovery that honeycomb foundation placed directly on glass made a fine lap which polished faster than pitch. After darkness fell they observed Saturn and Jupiter until clouds rolled in. But that did not seem to matter, they were content to talk telescopes.
In 1928 two milestones was reached in Scientific American; first, a department devoted to amateur telescope makers appeared in the May issue. Ingalls selected a Porter pencil cartoon of an amateur astronomer peering through a refractor propped up on a stepladder at the full moon rising over a back yard fence. This remained the department logo until June, 1930. Second, a new edition of Amateur Telescope Making was announced, fully revised from the original 102 pages to 286 pages.
In the fall of 1928 Porter was interviewed for a possible position on the 200-inch telescope project getting underway in Pasadena. Then in November, at the age of fifty-six, Porter accepted the invitation by telegram from George E. Hale to come to Pasadena, California. The initial telegram said "for several months." After an exchange of telegrams they settled on a salary of six hundred dollars per month plus travel expenses both ways from Vermont, and Porter and his wife, Alice, and daughter, Caroline, arrived by Union Pacific on December first. The "several months" would expand to years, with most summers off, until the end of Porter's life.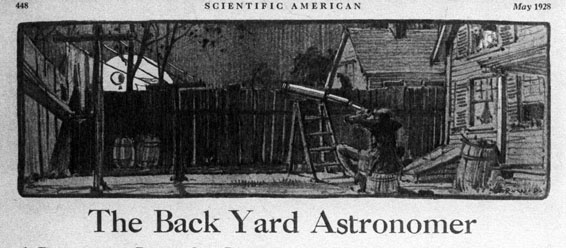 Next Chapter: Leo J. Scanlon, 1930 and 1937 Conventions
Back to Introduction
Footnotes
Marshall, Oscar Seth, Journeyman Machinist en Route to the Stars, Sullwold Publishing, Inc., Taunton, MA. 1979, p.149.
Ingalls, Albert G., Foreword to Amateur Telescope Making, Scientific American Publishing Co., 1926.
Porter, Russell W., "The Poor Man's Telescope," Popular Astronomy, November, 1921, p.528.
Porter, Russell, W., "The Telescope Makers of Springfield, Vermont," Popular Astronomy, March, 1923, p.1.
Ellison, William F.A. Rev., The Amateur's Telescope, London, 1920.
Ingalls, Albert G., "The Heavens Declare the Glory of God," Scientific American, November, 1925, p.293.
Ingalls, Albert G., "Our Telescope Makers," Scientific American, February, 1926, p.118.
Porter, Russell W., "Mirror Making for Reflecting Telescopes," Scientific American, February, 1926, p.86.
Porter, Russell W., "Mountings for Reflecting Telescopes," Scientific American, March, 1926, p.164.
Ingalls, Albert G., Scientific American, September, 1926, p.212.
Ibid.
Ingalls, Albert G., Scientific American, February, 1928, p.176.
Ingalls, Albert G., Scientific American, March, 1928, p.245.
Ingalls, Albert G., Scientific American, August, 1928, p.172.
Ingalls, Albert G., Scientific American, March, 1927, p.195.
Ingalls, Albert G., Scientific American, November, 1926, p.370.
Pierce, John M., Scientific American, June, 1927, p.426.
Porter, Russell W., "Watching the Earth Turn Over," Scientific American, July, 1927, p.14.
Porter, Russell, W., "Sun Dials and Sun Dialing," Scientific American, August, 1928, p.150.
References
Springfield Telescope Makers, Secretary's Records, Springfield, Vermont.
Porter, Russell W., Germ Book 1922, unpublished ideas notebook.
Willard, Berton C., Russell W. Porter, Arctic Explorer Artist Telescope Maker,
Bond Wheelwright Co. Freeport, Maine, 1976.