Stellafane History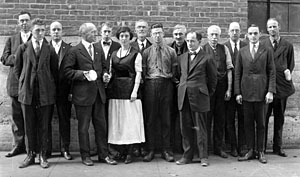 On August 17, 1920, fifteen men and one woman signed up to learn how to grind their own mirrors from instructor Russell W. Porter in Springfield, Vermont. After successfully completing their telescopes and using them for a while to explore the wonders of the universe the men decided to build a hilltop observatory and form an official club. On December 7, 1923 the first official meeting of the Springfield Telescope Makers, Inc. was held. Their clubhouse, Stellafane, was completed soon after.
Stellafane and The Springfield Telescope Makers have a long and rich history, and we are pleased to chronicle much of that history on these pages.
In order make the information more manageable, the history has been divided into two eras. Early History covers everything that happened prior to the purchase of the Stellafane East property in 1987; Modern History covers the purchase of Stellafane East and everything that has occurred since then.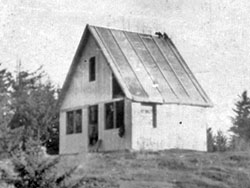 Club pre-history and founding.
The Stellafane Observatory National Historic Landmark.
The Stellafane Pink Club House.
The Porter Turret Telescope.
Russell W. Porter and Governor James E. Hartness.
Early Conventions.
Relationship with Scientific American.
Our Museum at the Hartness House.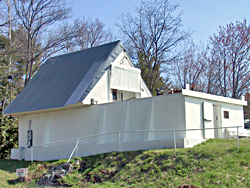 Purchase of Stellafane East and the Bunkhouse.
Development of the property for Convention.
Web Site History.
McGregor Observatory and 13" Schupmann Telescope.
Donation and Development of the Hartness Acreage.
Dealing with Light Pollution from the new Springfield Prison
Construction of the Domed Observatory.
Construction of the Flanders Pavilion.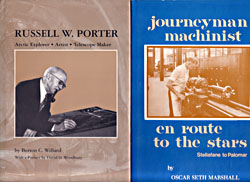 Here is a brief selection of books and articles about Stellafane from a historic perspective.