Foucault Data Reduction Software
After you take Foucault Test Measurements, you need to process, or reduce, the data, to understand the shape of your mirror surface. When this is determined, you can decided which zones to work on, or declare the mirror done.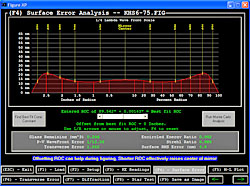 Before computers were common, the data reduction was done manually. Many of the mirror making books listed in our bibliography will describe the steps to do this. [Texerau84] has the most through description, a nice work-sheet to use, and is by far the most popular.
Today, however, most people use a software package running on a personal computer to do this work. These packages will accept a set of Foucault Test Data and produce textural and graphic output that describes your mirror.
Surface profiles and transverse error plots will help you decided what your next figuring step should be. Mirror quality metrics, such as wave ratings and Strehl ratios, will help you decide when the mirror meets your completion criteria.
The table below lists some of the currently available software:
A frequent question we get is asking about software available for Macs. We are sorry to report aside from Tex, we are not aware of any others at this time (if you know of something, please let us know so we can include it in this list).
Gary Barrett of Conifer, CO wrote to let us know that he was successful in running FigureXP on his Mac using a free program called Wineskin. It might work for other windows programs also.