An Eyepiece Rack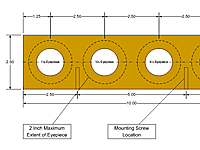 An Eyepiece Rack is a convenient, optional accessory for your Dobsonian Mount. It is simple to make and gives you a place to put eyepieces that is safe and easy to reach.
We made our eyepiece rack out of ½ inch plywood scrap left over from our ground board. We designed it hold four 1¼ inch eyepieces; you can certainly design one to hold a mix of eyepiece sizes and more or fewer eyepieces to suit your needs.
Sketch out the layout you wish to use if it is different from our configuration. If own some 2 inch eyepieces, you will want to add space for them. Once you have a layout, remembering to leave adequate room between eyepieces so there is room for you fingers to grab them, transfer the layout to an appropriately sized piece of wood. Cut it our to final dimensions, perhaps rounding the corners for a more finished look.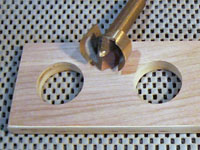 Drilling out the eyepiece holes is best done with a Forstner bit. These drill bits make very precise, smooth holes in wood (see photo to see what one looks like). Drill onto a scrap of wood as a backer to prevent tear out. And while accuracy is not critical, your rack would look better if the holes are nicely aligned and evenly spaced.
Then finish the rack to match the mount (as always, we will use satin finish polyurethane)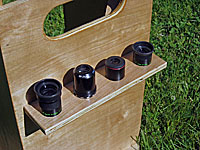 You can attach the eyepiece rack to the mount either on the front or sides. We choose the front, so the eyepieces are accessible no matter which way we have rotated the tube. Since our rack does not project very far and we are only holding a few lightweight eyepieces, we choose to mount the rack by using 1-5/8 drywall screws through the front board. We drilled and countersunk clearance holes in the rocker box front board, spaced so that the screws would penetrate between eyepiece holes.
If you have a larger rack or heavier eyepieces, you should probably use metal "L" brackets or wooden triangle supports to attach the eyepiece rack to the rocker box.
Hopefully, having an eyepiece rack on the rocker box will make using your telescope more pleasurable.
Previous: 3D Models
Back to the Build a Dobsonian Master Index