Captain Alan Bean Dinner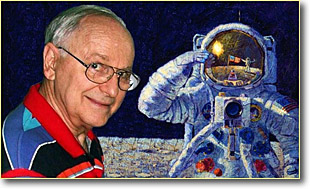 Astronaut Alan Bean will be the special guest at a fundraising dinner held at the Hartness House Inn on Friday, August 14, 2009 sponsored by the Springfield Telescope Makers. Guests will hear brief remarks from moonwalker Bean and have a chance to personally meet him and have photographs taken with him. This is the 40th Anniversary of the 1969 Apollo moonwalks, and Alan Bean was the 4th person to walk on the moon - this promises to be a special remembrance of that achievement.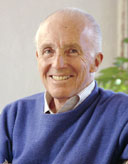 Joe Gavin: The Springfield Telescope Makers are pleased to have Joe Gavin, vice president of Grumman Aerospace Corporation and director of the Apollo Lunar Module Program from 1962 – 1972, join us in welcoming Apollo astronaut Alan Bean at this dinner (More about Joe).
Dave Reed: Dave was the Flight Dynamics Officer (trajectory control) for Apollo 12. The Springfield Telescope Makers are pleased that Dave will attended this dinner and we expect him to make some brief remarks about the challenges of landing Apollo 12 near the Surveyor spacecraft that had landed three years earlier (More about Dave).
Details: Only 100 tickets at $150 each will be available for sale; total attendance at this event will be 110 people - this will insure you will have the opportunity to personally meet Captain Bean. Tickets will only be sold on-line on this page, first come, first served. Dress at this event is "Golf/Office Casual" - ties not required. Your tickets will be mailed to you if you order on or before August 6th, after that they we be available for pickup at the door with proper identification. While this event is being held in conjunction with the 2009 Stellafane Convention, it is totally separate from that event and Convention Registration is not required.

Venue & Dinner Selection: This event will be held at the Hartness House Inn in the Victorian Ballroom. The Porter-Hartness Museum of Amateur Telescope Making will be open at 4:00 PM, Social Hour starts at 5:00 PM and Dinner will be seated at 6:00 PM. When purchasing your tickets, you will be asked to make a dinner selection of:
Prime Rib Aus Jus
Panco Crusted Chicken Cordon Blue
Jumbo Shrimp with Lemon Linguini
Vegan
Cash bar available. Desert choices will include Apple Crisp, Chocolate Mousse or Cheesecake with Coffee or Tea.
Photos from the Dinner
Several attendees took photos at this dinner, below we present some of their best shots to document this special event at Stellafane.
---

Photos by John Briggs of the Springfield Telescope Makers

John took a lot of Wide Angle shots of the Dinning Room,
we start with these to give you a feel of what it was like to be there.

The Head Table


L-to-R: The Simoni Family, Captain Alan Bean, Kris Larsen, Mr. & Mrs. Joe Gavin, Mrs. & Mr. Dave Reed


The Head Table

Gary Cislak chats with Bean

John Martin & The Simoni's
The Speakers

Captain Alan Bean

Dave Reed

Joe Gavin

Al Nagler

VP Gary Cislak, conceived
and organized this dinner

The Gavin's & The Reed's
The Dinning Room in more Detail
---

Photos by Jim Zebrowski of the Aldrich Astronomical Society


Jim Zebrowski with Bean

Bean chats before dinner

Bean with Rich Sanderson

Bean signs Sanderson's book

Host Gary Cislak

Dave Reed & Surveyor photo

Joe Gavin speaks

Captain Bean reads a document he was given.

Al Nagler speaks

Alan Bean & Dave Reed

Bean enjoys a laugh

Captain Bean speaks

Captain Bean speaks

Bean with LEM model

Bean & Reed at the head table

Capt. Bean & Al Monkowski

Capt. bean greeting guests

Bean with Iwo Jima picture

Gavin & Reed sign posters

Dave Reed after dinner

Gary Cislak, Bert Willard,
Dave Reed & Michael Costanza
---

Photos by Jim Beaty of the Springfield telescope Makers


Bean with Jim Beaty

Bean with John Gallagher

Bean with Al Monkowski

Andrew Simoni, Captain Bean, Kris Larsen & The Gavins

The Simonis & Captain Bean

Dave Reed

Dave Reed

Bean applauds Dave Reed

Joe Gavin

Joe Gavin

Andrew Simoni & Alan Bean

Al Nagler

Captain Alan Bean

Captain Alan Bean

Bean with LEM model

Captain Alan Bean
---

Photos by Paul Valleli of the Springfield Telescope Makers


Al Monkowski & John Gallaher
with Alan Bean

Al Nagler

Andrew Simoni, Alan Bean
& Kris Larsen

Bert Willard

Tom Gorka in red tie

Deb & Dave Kelly

Bean with Tony Pirrera

Bean with Rich Sanderson

Gary Cislak,
Bert & Sylvia Willard

Hannah DiCicco with Bean

Jim & Peter Beaty

John Briggs in suit

Tabor Family with Bean

Phil Rounseville with Bean

The Simonis with Capt Bean
---

Photos by Bert Willard, Club Historian, Springfield Telescope Makers
Bert arranged for Dave Reed to speak at this event.


Dave Reed & Alan Bean

Dave Reed with Apollo Photo

Joe Gave speaks

Captain Alan Bean speaks

Alan Bean & Dave Reed

Alan Bean & Al Nagler
---

Photos by Keith Dayer of the Albany Area Astronomers


Capt. Bean with LEM Model

Karen Canton, Alan Bean & Keith Dayer

Capt. Bean and Dave Reed
Back to the Registration Page or the 2009 Convention Main Page