2011 Stellafane Convention
The 76th Convention of Amateur Telescope Makers on Breezy Hill in Springfield, Vermont, the 2011 Stellafane Convention, was held Thursday through Sunday July 28-31, 2011. This convention is dedicated to Fran Flanders, member of and benefactor to the Springfield Telescope Makers.
Suggestions
Do you have a suggestion to improve any aspect of convention? We would like to hear about it! Please send them via email .
We are very interested in feedback, comments or suggestions on any as­pect of convention, we are always work­ing to make improvements every year.
We will be studying the results from the surveys that were returned to under­stand what conventioneers think.
Thanks to All!
The Springfield Telescope Makers would like to thank all those who attended the 2011 Stellafane Convention and made it a success. The Convention is all about sharing ideas and knowledge, renewing and making new acquaintances, and enjoying shared observing sessions. You make the Convention what it is, and we thank you for participating! We would also like to say Thank You for the many generous contributions we received in support of paying off the Flanders Pavilion mortgage, which now under $12,000 left to pay and within striking distance of paying off.
Convention Summary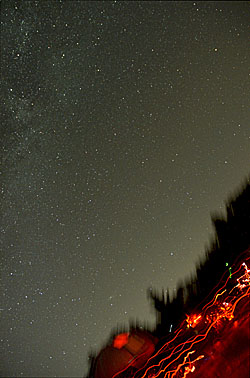 Both Thursday and Saturday provided clear nights for observing, and even with the heavy rain Friday afternoon, those that ventured out early Friday morning got some additional observing in. Optical competition was held on Saturday night. This year we had significantly added to the number of talks, and added activities for young adults, and all seemed to be well received based on attendance. The telescope competition had 24 entrants, including 4 juniors, and a nice variety of scopes were in the competition. The candle light tribute to Fran Flanders at the Saturday evening program was especially moving and a fitting way to say goodbye to the First Lady of Stellafane.
From the clubs standpoint, early in the year we felt a bit overwhelmed with extensive ice storm damage to clean up and repair, but as we neared convention everything fell into place thanks to much hard work by members and volunteers, and we were ready a day early! A good convention all around.
The overall convention schedule at a glance and details for most events are listed here. Our keynote speaker this year is Dr. Jane Luu, who talked about the impact the discovery of Kupier Belt objects on astronomy and our knowledge of the solar system.
The printable Convention Bulletin (PDF Format) is a multi-page summary of these more detailed web pages, and includes schedule, policy and general information.
Raffle Donors
The Springfield Telescope Makers would like to thank the following people and/or companies for donating prizes to the raffle at the 2011 Stellafane convention. In no particular order, we thank:
The money raised from the raffle goes to support next year's convention and to make capital improvements to the convention site. We appreciate the generous donations of the above people and companies, and the attendees support by purchasing raffle tickets. Thank you all very much!
Call for Convention
Photos & Reports
We would like to add your photos or convention report to our web pages. Your experiences gives a much more comprehensive view of the convention than we can do ourselves. Please send them via email .
The 2011 Convention Photo gallery, with candid images taken by the Springfield Telescope Makers and many attendees who send us photos they have taken (See the pink box at right if you have photos to send us for posting on our web page).
Page 1: Photos by the Springfield Telescope Makers
Page 2: Photos by Convention Attendees
Videos of many of the talks and the Saturday Evening speakers are available from this page.
Reports on the experiences and observations of conventioneers by conventioneers.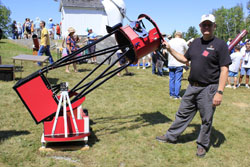 Often considered the heart of the Stellafane Convention, the Optical & Mechanical Competition gives Amateur Telescope Makers a chance to show and share with others what they have done, and our expert judges pick the best in several categories to for recognition with awards. This page shows all the telescopes entered in the competition, and the awards that many have won.
This page contains much information about the convention, lighting policies, pet policies, food service, on-site bus service and where to set up your telescope. Check this page for answers to any questions you may have.
| | | |
| --- | --- | --- |
| Need to know how to get to Stellafane? Here are written directions and a map for after you get off the Interstate. We also have a site map of the convention area. See also Local Airport Information. | | If you are not camping at Stellafane, you will need some place to stay. Here is a listing of Motels, Hotels, Bed & Breakfasts, and Campgrounds in the area. |
---
Do you have convention questions we haven't answered? Comments or suggestions about the Bulletin or Registration Supplement? Please direct these to our .
Do you have a comment, question or suggestion about the web pages or online registration process? Please direct these to the .