Major Pavilion Donors
The Springfield Telescope Makers appreciate the wonderful support they have received from all donors, large and small, for the funding of Flanders Pavilion. Here we honor many of our major donors, whose generous leadership gifts have been of significant help in making the dream of the Flanders Pavilion come true.
Not all major donors are honored here, some prefer to remain anonymous; we appreciate their wish to stay out of the limelight and their help in financing the pavilion also.
Fran Flanders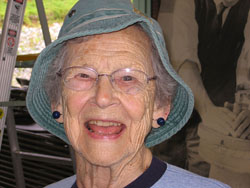 The Flanders family were founding members of the Springfield Telescope Makers: U.S. Senator Ralph Flanders (R-VT), Ernest Flanders, and Fran Flanders. Ralph and Ernest were brothers; Fran and Ernest were married. Senator Ralph Flanders is best known for standing up against Senator Joe McCarthy and his anti-communist witch hunts that he conducted in the 1950's. The Flanders Pavilion is named in honor of this family, who have been long time supporters of Stellafane.
Fran Flanders made a very generous major gift to our building effort at the January 2004 planning meeting of the club, which really kick-started our fundraising. Shortly thereafter, the club decided to rename the then so-called 'pole-barn' to the Flanders Pavilion to honor the Flanders family.
Fran Flanders at
the Club Meeting
before Convention
[Convention 2002]

Fran Flanders
in the Club House
at Convention
[Convention 2005]

Bert Willard &
Fran Flanders in
the Club House
[Convention 2005]

Fran gets filmed
for 'Seeing
in the Dark'
[Convention 2006]

Fran Flanders
in the Club House
at Convention
[Convention 2006]
Al Nagler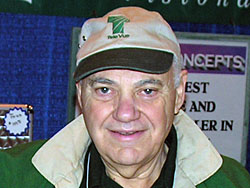 If you come to Stellafane Convention, you can be sure to find Al Nagler set up on the hill below the McGregor observatory, observing with the latest Tele Vue equipment (Al is founder and CEO of Tele Vue, and the inventor of the legendary Nagler eyepieces and Tele Vue refractors).
Al recently said "It was after all Stellafane that pushed me along ever since I was about 14 or 15 years old!" Pushed him along in his optical career, that is, working first on optical simulators for the NASA space program and then going on to found the highly successful Tele Vue Optics company.
Al has been a generous, long-time supporter of Stellafane, resulting in being designated a 'Benefactor of the Club' in May 1997. When we kicked off Pavilion fundraising in 2004, Al responded quickly with a major donation. In 2007, he donated a prototype Nagler Eyepiece and the Tele Vue refractor Stephen James O'Meara used to write his first book with. We auctioned these items on eBay to raise additional funds for the Pavilion. For many years, Al has donated sets of premium Tele Vue eyepieces to the the raffle at convention, driving up ticket sales which help fund the convention and the Pavilion also. The Springfield Telescope Makers are grateful for Al Nagler's continuous, generous support, and we are happy to have helped 'push him along" in a successful career that has directly impacted the equipment many amateurs use to observe.
Al Nagler's Scope
with Alarm Clock
Drive, Hex Tube &
Photo Adapter: 3rd
Place Mechanical
[Convention 1958]

Al won 1st Place
Optical Newtonian
with this Scope &
Perforated Diagonal

[Convention 1972]

Al Nagler with
Astrophotos
by his spot on
Stellafane East

[Convention 2002]

Al with another
convention attendee
at his spot on
Stellafane East

[Convention 2003]

Al pulls the
winning ticket
for his Eyepieces
in the raffle

[Convention 2007]
Andrew E. Simoni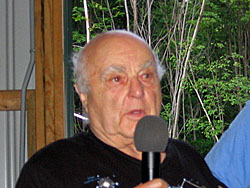 Andrew E. Simoni has been a long-time convention attendee, in recent years travelling from Texas to attend. His son, Steven A. Simoni made a major donation to the Pavilion in early 2009 in honor of his father; he also honored other members of his family with this gift and you will see the Simoni name on Portals, Pillars and Pavers in the Pavilion.
Andrew Simoni attended conventions when Russell Porter was present, and made his own telescope mirror with Porter's guidance. His first convention was either 1938 or 1939, and he was the youngest convention attendee at one point. Now for the past several years he has been the oldest, so he has a had the whole range of experience at Stellafane, from its infancy to the lean war years and the post-war growth.
Andrew Simoni pursued his education solely for the pleasure he innately derived from it at a time when education was a costly and precious commodity, this was an inspiration to son Steven.
The Springfield Telescope Makers are happy that Stellafane has been such an important part of Andrew's life, and are grateful to the Simoni's for their support of the Flanders Pavilion.
Andrew Simoni
boating in the
Galapagos Islands


[January 2006]

Andrew Simoni
looking good
in a straw hat on
Galapagos Islands
family trip
[January 2006]

Andrew E. Simoni
and wife Norma at
granddaughter
Stephanie's
graduation
[May 2006]

Andrew Simoni
being recognized
as the oldest
convention
attendee
[Convention 2008]

Andrew Simoni
(oldest attendee)
with youngest
convention
attendee 2008
[Convention 2008]
Back to the Pavilion History Page