An Illustrated History
of the Flanders Pavilion
Desire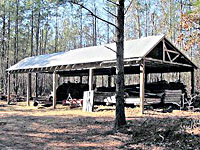 Ever since I became involved with Stellafane in the mid-1990's, I remember there being talk of wanting a "Pole Barn" to permanently replace the tent used at convention. It took me a while to understand that a Pole Barn was a clear span building, a roof supported by two rows of stout poles; sometimes curtain walls were built along the poles, sometimes not. One would make a great, airy convention center, and solve some issues we had with the tent: In sunny weather, it was often to bright to see projected images; in rainy weather, the ground would often puddle up and with crowds get muddy. As I became more involved in club activities, it seemed that the club had an annual debate about when and how we could manage to build such a building, but for many years, we could not figure out how to do this. Some years it seemed it was just a year away; in other years it seemed hopeless.
Moving Forward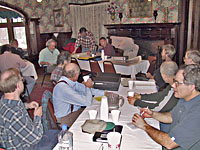 In January of every year, the Springfield Telescope Makers gather for a "5-Year Planning Meeting" at the Hartness House. This is the one time during the year we take the time to discuss strategic items with long term impact on the club and its mission. In 2003, John Martin, our site manager and long time Pole Barn proponent, brought some sketches and cost estimates before the club. We spent a long time discussing the Pole Barn, its many benefits and its substantial cost. In the end, we felt the club had to do something to improve the situation "under the tent" in those years that the weather is wet during convention. We voted to begin the permitting process, and to get firm estimates on the cost of a building. It was also decided to get a permit to build a new observatory on the hill below the McGregor Observatory at the same time to save on the expense and effort of obtaining the needed permits. This new observatory would use a donated Ash dome and a donated 10" R-C scope on a Springfield mount.
We decided not to announce our intent publicly until we had the permits to build and had a reasonable idea of the costs involved. After many years of dreaming, we were moving forward towards our long held goal.
Permission Granted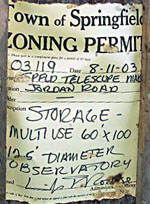 Vermont has a rigorous permitting law ("Act 250") which applies to development such as we were proposing. The regulations are intended to protect the environment, but require quite a bit of expertise to navigate through the paperwork and reviews required to get permit to build a structure like our pole barn. We had learned how hard this was to do when we built the McGregor Observatory, so this time we decided to hire an expert consultant to help guide us through the process. Even with this help, our president, Junie Esslinger, and Vice President, Brad Vietje, spent many, many hours providing the required information and documentation, and attending necessary hearings. In August 2003, after many months of work, the permit was granted for a "60x100 foot Multiuse Storage Building and a 12.5 foot diameter Observatory". Shortly thereafter two things happened: We began initial site preparation, and a fundraising campaign was begun! Note, however, that we had not made the decision to actually construct the building; although that was our intent, we did not have our finances in place at this time.
Initial Site Work
After convention 2003, John Martin, our site manager, and the Springfield Telescope Makers immediately began work on the site of the new Pole Barn, which up to this point had been the tent field. Some trees would have to be removed, as the the 60 foot wide building needed more room then the 40 foot wide tent we had been using. We also had to do a lot of re-grading, to level the field and install proper drainage. Some of the soil that was removed was used to create a level spot for the new Domed Observatory.
John Martin
fells a tree
[September 2003]

West Drainage
Trench
[October 2003]

Moving Earth
to Level the Site
[October 2003]

John Loads the
Dump Truck
[November 2003]

Kris & Gary
Haul Fill Away
[November 2003]
Steady Progress in 2004
At the annual January planning meeting, the Pole Barn project occupied a lot of discussion. Although we had permits and site work had begun, we had not figured out how we would pay for the building yet, had not picked a final building design, and had not selected a builder. We did decide on a fundraising plan. Fran Flanders, on the spot, made a very generous leadership gift to kick off the next phase of the fundraising effort.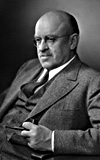 Shortly after Fran Flanders' leadership gift, the utilitarian "Pole Barn" became the "Flanders Pavilion" in recognition of her generosity, the long involvement of the Flanders family at Stellafane, and to better describe the use most people would know if for, as a dry, indoor convention center.
The Flanders family were founding members of the Springfield Telescope Makers: U.S. Senator Ralph Flanders (R-VT), Ernest Flanders, and Fran Flanders. Ralph and Ernest were brothers; Fran and Ernest were married. Senator Ralph Flanders is best known for standing up against Senator Joe McCarthy and his anti-communist witch hunts that he conducted in the 1950's.
We also authorized the the installation of an upgraded electrical system to serve the needs of the Flanders Pavilion and provide a safe and modern power source for the food vendor at convention. Site work continued, but we grassed over the field in time to put up the tent for convention.
President Brad
Vietje leads the
planning meeting
[January 2004]

Bert Willard &
Fran Flanders in
the Club House
[Convention 2005]

Site Works gets
off to an early
start in 2004
[April 2004]

New Electric
Service being
installed
[July 2004]

Leveled Site
Grassed Over
for Tent
[July 2004]
With Fran Flanders leadership gift, we had our first major donor. Fortunately, there were more to come over the years, and we recognize those major donors who do not wish to remain anonymous on the Pavilion Major Donors page.
Commitment in 2005
Another January, and another 5-year planning meeting. This really is where all the big decisions get made at the club, and in January 2005, we made a big one. While fundraising was proceeding to raise money, we had not raised enough to purchase a building, not even half a building. How long were we willing to wait? The site was nearly ready, the new power was installed. Should we proceed? How much debt could the club carry? Who would be our builder? Much lively debate ensued, and when everyone had had their say, the club voted to take out a large mortgage and to hire Morton Builders to construct our Pavilion. The goal was to have it ready for the 2005 Convention, just 7 months away.
Things did not work out quite as planned. Our bank was wonderful, and gave us a mortgage without much difficulty. Morton Builders proved easy to work with and we are very happy that we chose them. The problem was the State of Vermont. Even though we had gotten the necessary permits, the detailed building plans needed to be approved before construction could start. We submitted the plans in plenty of time, but weeks dragged into months and we could not seem to get them to look at the plans (John Martin spent many hours trying to move them along to no avail and to his great frustration). When they were finally approved, convention was just a few weeks away. We decided to hold off on construction until after convention, and put up the tent one last time.
Half a week before convention started, half of the building parts showed up at Stellafane as planned, including the huge, 60-foot long trusses (it was quite a sight to see them come up Jordon Road and cross Sue's field). We stored them at the north end of the tent field, and then got the tent up in time for convention. We should note that the companion project, a new domed observatory, was completed the week before convention, although the telescope was not installed in the finished building in 2005. Two weeks after convention was over, Morton Builders came on site and started work on the footings; by early November their work on the building was complete and the building was weather tight and secure for the winter.
Construction and
Mortgage approved
at January Meeting
[January 2005]

John Martin
standS on a pile
of Trusses
[August 2005]

Drainage and
Footings
Complete
[September 2005]

Framing Complete
(Note Roof Height
and Wide Doors)
[September 2005]

Shell Complete:
Weather Tight
and Secure
[November 2005]
Grand Opening in 2006
The Pavilion was first used at the 2006 Stellafane Convention, and it was worth the effort! As promised, it provided a large, dry, airy meeting facility and was a huge improvement over the tent. Because it was 50% wider than the tent (60 feet instead of 40 feet), we could get more seating closer to the stage and give everyone a better view. Because of the extensive drainage system that was installed before the pavilion was erected, there was never even a hint of dampness on the floor inside the building, and the area outside the building was puddle free and dried quickly after a rain. The large doors allowed us to keep the pavilion well ventilated, and yet we could close those near the stage to darken the screen for projection. For those of us who put on convention, the ability to not have to move large amounts of equipment into and out of the tent really reduced our workload. The Pavilion turned out to be just what we had hoped it to be - a wonderful improvement to convention that will be used and enjoyed for years to come.
This first set of photos shows that even though the builder was done, there was still plenty of remaining details for the Springfield Telescope Makers and Convention Volunteers to do to get the pavilion ready for Convention:
Trenching for
Permanent Power

[May 2006]

Pouring Concrete
Door Sills

[May 2006]

Installing a
Catwalk and
Lighting
[July 2006]

Building a
Pedestrian
Walkway
[July 2006]

Installing a
Conduit for
A/V Cabling
[July 2006]
As always, work at pre-convention always seems to get done in the nick of time, and we were ready for convention and the first use of the Flanders Pavilion. Unfortunately, with heavy rain early Friday evening and threatening weather on Saturday, the Pavilion was used both evenings, as well as during the days for the ATM Demo and Technical Talks.
ATM Demo set
up at south end

[Convention 2006]

Fran Flanders
in the Pavilion

[Convention 2006]

Wayne Zuhl MC's
the Technical
Talks
[Convention 2006]

Saturday Evening
Program
Audience
[Convention 2006]

'Scope Winners
on Stage
Saturday Evening
[Convention 2006]
Continuing Improvements
We continue to make improvements to the Pavilion and surrounding grounds. In 2007, major improvements included a much larger projection screen and a new split-rail fence for the hill above the pavilion. In 2008 we expanded an interior storage balcony on the southwest side, and introduced Engraved Pavers. We expect to continue to make improvements to this fine building as our means and needs evolve.
Hoisting up a
Larger Projection
Screen
[Convention 2007]

New Fence
above slope down to the Pavilion
[Convention 2007]

Storage Balcony
in southeast
corner
[Convention 2008]

Making Engraved
Pavers (Jigs in
Foreground)
[Convention 2008]

Installing Pavers
(Pink ones
are Engraved)
[Convention 2008]
Mortgage Retired
In Novemeber 2012 the club announced the pavilion mortgage had been paid off, just seven years after taking it out and beginning construction. The club is extremely grateful to all of the many donors who made this possible. The donation to push us over the top came from our current treasurer, Dr. Al Monkowski, and his brother, who made a large enough contribution to retire the mortgage before the end of 2012. Thanks to everybody who contributed, for indeed it was was true that no matter how much you donated, it helped us pay off the wonderful building in a very short time.
Back to the Modern History Page