Stellafane 2012-2013 Mirror Class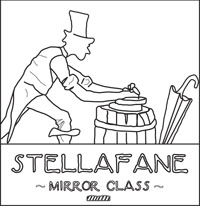 Table of Contents
Click link to jump to section
Announcements
This class started in October 2012 and finished in May 2013.
To sign up for a future Mirror Class, see the pink box on the Mirror Class Main Page.. We expect the next class to start in October 2013.
Please email any questions or corrections to mirrorclass@stellafane.org.
Schedule & Class Pictures
A photo album of a session is typically added to the table below within a week of when the session was held.
Schedule


Including brief notes about the session

Class Pictures


Click Image for Photo Album

0: Saturday, September 29, 2012 at Stellafane:

10:00 - 4:00: Workshop
Pre-Class for early birds only

No Photos

1: Saturday, October 13, 2012 at Stellafane:

10:00 - 4:00: Workshop
10:30 - 11:30: Class #1:
Overview & Rough Grinding

B1: Saturday, October 27, 2012 at Stellafane:

10:00 - 4:00: Bonus Session

Nice turnout, 6 of the new grinders worked today.

No Photos

2: Saturday, November 10, 2012 at Stellafane:

10:00 - 4:00: Workshop
11:00 - Noon: Class #2: Fine Grinding

3: Saturday, December 15, 2012 at Fletcher House:

10:00 - 4:00: Workshop
11:00 - Noon: Class #3: Polishing

4: Sunday, January 12, 2013 at Fletcher House:

10:00 - 4:00: Workshop
11:00 - 1:00: Class #4: Auto-Collimation Testing

5: Saturday, February 9, 2012 at Fletcher House:

10:00 - 4:00: Workshop
11:00 - Noon: Class #5: Testing

Canceled


due to
Winter
Storm

6: Saturday, March 9, 2013 at Fletcher House:

7: Saturday, April 13, 2013 at Fletcher House:

B2: Saturday. May 4, 2013 at Stellafane:

10:00 - 4:00: Mirror Completion
Students & Mirror Status
2012-2013 Mirror Class Student Projects
Mirror Maker


*Club Member

Mirror
Size
Focal
Ratio
Start
Date
Mirror
Status
Status
Date
Johnny L.
6"
-
-
-
Trish M.
6"
-
-
-
Tamur H.
8"
f/6
2012-10-13
Rough
2012-10-13
Luke D.
8"
f/6
2011-10-29
Fine
2012-04-21
Tristan C.
8"
f/6
2011-10-29
Fine
2012-04-21
Reed
8"
f/6
2012-10-13
#320
2013-05-04
Pete F.
8"
f/7
2012-10-13
#220
2012-11-10
Don P.
6"
f/5
-
5 micron
2013-03-09
Robert D.
6"
f/8
2012-10-13
Polishing
2013-05-04
John C.
6"
f/8
2012-10-13
Rough
2013-01-13
Jeffery D.
6"
f/8
2012-10-13
#220
2013-05-04
Ronald J.
8"
f/6
2012-10-13
Figuring
2013-05-04
Keith S.
6"
f/8
2012-10-13
Figuring
2013-04-13
Pearl
6"
?
2013-01-13
Repolishing
2013-01-13
Tim S.
6"
f/8
-
Figuring
2013-05-04
Sam B.
8"
f/6
2011-09-24
Figuring
2012-05-04
Dylan K.
10"
f/5
2012-10-13
Done
2013-04-13

Paul S.
8"
f/6
2012-10-13
Done
2013-03-09
Karl D.
8"
f/6
2011-10-29
Done
2013-01-13
Member & Experienced Student Projects
Cecilia P.
10"
-
2011
#180
2013-04-13
Josh
24"
f/5
-
30 micron
2012-01-29
George P.
12½"
f/5
2012-11-10
Figuring
2013-04-13
Rick K.
10"
?
2013-03-09
Rough
2013-03-09
Jay
10
f/6
2012-11-??
Done
2013-03-09
Refractor Interest Group Progress
Lens Maker


*Club Member

Lens
Size
Focal
Ratio
Start
Date
R1
Status
R2
Status
R3
Status
R4
Status
Status
Date
Raymond Mortis*
4.25"
f/15
2010-09-01
120
120
-
-
2013-03-03
Dave Tabor*
4.25"
f/15
-
-
-
Hogged Out
-
2011-04-11
Ken Slater*
4.5"
f/15
2011-01-26
#120
#120
#320
#320
2013-03-03
Rick Hunter*
4.5"
f/15
-
Rough
Ground
Flat
Ground
Flat
Ground
Rough
Started
2013-03-03
Paul Valelli*
?"
f/?
-
-
-
-
-
-
Jim Erickson*
?"
f/?
-
-
-
-
-
-
Instructors
Thanks to our large group of volunteer instructors, we can hold these mirror class and give everyone the individualized attention they require. Several of our instructors work professionally in the optics industry, and many have competed dozens or mirrors and more complicated optics as amateurs.
Officers, Trustees and Full Members of the club have had to successfully make a mirror or other quality optical surface.
Jay Drew
Mirror Class Leader thru Feb 2011
Full Member
Eats #80 Grit for a Snack!

Rick Hunter
Full Member
Using the Foucault Tester

Dave Kelly
Full Member
Demonstrates Polishing Techniques

Jeff Lowe
Full Member & Past President
Mechanical Judging at Convention

Carl Malikowski
Full Member & Secretary
With a Mirror he completed in 2009

Ray Morits
Mirror Class Leader from March 2011
Full Member
Showing a student how to Measure Sagitta

Dick Parker
Full Member
At the 2007 Stellafane Convention

Phil Rounseville
Full Member
Making Pitch Laps at the 2001 Convention

Ken Slater
Full Member, Trustee & Webmaster
Explaining Foucault Testing

Dave Tabor
Full Member & Vice President
Making a Pitch Lap in the 2006-07 Class

Samantha Tabor
Full Member
At the 2007 Convention

Paul Valleli
Full Member
At the 2006 Stellafane Convention
Final Report
Students: This year saw us have 11 new students and 7 returning students start out the year with us. First couple of classes everyone was very enthusiastic but we saw a large drop off around Christmas with only 11 total students pushing thru to the end of the season. A couple students had some setbacks, scratches during figuring and such, and one damaged his mirror beyond repair. We had only three completions, one of the returning students and two from this year's class. Several are "soooo" close to being done and will either return to us next year to finish or find another means such as Dave Kelly house.
Instructors: I would like to thank those instructors who helped out and showed up nearly all the time and always offered to help out. There seems to have been a big drop in member participation this year, we need to improve on this in order to keep the class going, we cannot depend on four or so members only to provide a good learning experience, especially during the first couple of classes.
Equipment: The barrels Jay and Dick made up have withstood the beating and multiple moves to date and only need some cleaning and maybe a fresh coat of paint to keep them going for a couple more years. We need to develop an improved travel testing system as I intend to put the tunnel into the bunk house; Rick Hunter has expressed interest in helping me do so.
Facilities: Mirror Lab #1 in the Pavilion is working out to be a great space for rough grinding. Though a little tight with eleven people starting at the same time, hopefully we'll have a warm fall and can start some outside next class. McGregor for polishing and figuring has raised some concerns about the library not being an appropriate space for such tasks, I agree. John M and I have put a plan in place to renovate the bunk house into a better space for fine grinding and finishing mirrors, and will end up being the permanent home for the test tunnel after this year's convention. Fletcher House as always is a godsend for us during the long winter days when our home is closed in with snow and they should be thanked for offering the facilities and the storage space.
Future: Hopefully next class will see us with a better space in the Bunk House and many finished mirrors that have carried over the last two years and those that started with the new class. For the 2013-2014 class I would also like to see us get some new potential members and instructors.
Raymond Morits
Mirror Class Leader 2011 - 2013
Back to the Main Mirror Class Page.