Stellafane 2015-2016 Mirror Class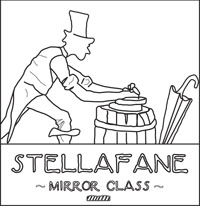 Table of Contents
Click link to jump to section
Announcements
This class begins October 10, 2015.
To sign up for a future Mirror Class, see the pink box on the Mirror Class Main Page. We expect the next class to start in October 2016.
Please email any questions or corrections to mirrorclass@stellafane.org.
Schedule & Class Pictures
A photo album of a session is typically added to the table below within a week of when the session was held.
Schedule


Including brief notes about the session

Class Pictures


Click Image for Photo Album

B1: Saturday, September 12, 2015 at Stellafane:
Bonus Session for Returning Students Only.

1: Saturday, October 10, 2015 at Stellafane:

10:00 - 4:00: Workshop
10:30 - 11:30: Class #1:
Overview & Rough Grinding

2: Saturday, November 14, 2015 at Stellafane:

3: Saturday, December 12, 2015 at Fletcher House:

10:00 - 4:00: Workshop
11:00 - Noon: Class #2: Fine Grinding

6: Sunday, January 10, 2016 at Fletcher House:

10:00 - 4:00: Workshop
11:00 - 1:00: Class #4: Auto-Collimation Testing

7: Saturday, February TBD, 2016 at Fletcher House:

8: Saturday, March TBD, 2016 at Fletcher House:

10:00 - 4:00: Workshop
11:00 - Noon: Class #5: Focalt Testing

9: Saturday, April TBD, 2016 at Stellafane:
Students & Mirror Status
2015-2016 Mirror Class Student Projects
Mirror Maker


*Club Member

Mirror
Size
Focal
Ratio
Start
Date
Mirror
Status
Status
Date
Experienced Student Projects
Instructors
Thanks to our large group of volunteer instructors, we can hold these mirror class and give everyone the individualized attention they require. Several of our instructors work professionally in the optics industry, and many have competed dozens or mirrors and more complicated optics as amateurs.
Officers, Directors and Full Members of the club have had to successfully make a mirror or other quality optical surface.
Francis O'Reilly
Mirror Class Leader & Full Member
In the Pavilion Mirror Lab 2013

Ray Morits
Full Member
Showing a student how to Measure Sagitta

Jay Drew
Full Member
Eats #80 Grit for a Snack!

Rick Hunter
Full Member
Using the Foucault Tester

Glenn Jackson
Associate Member
At Mirror Class in 2015

Dave Kelly
Full Member
Demonstrates Polishing Techniques

Jeff Lowe
Full Member & Past President
Mechanical Judging at Convention

Carl Malikowski
Full Member & Secretary
With a Mirror he completed in 2009

Dick Parker
Full Member
At the 2007 Stellafane Convention

Phil Rounseville
Full Member
Making Pitch Laps at the 2001 Convention

Ken Slater
Full Member, Trustee & Webmaster
Explaining Foucault Testing

Dave Tabor
Full Member & Vice President
Making a Pitch Lap in the 2006-07 Class

Samantha Tabor
Full Member
At the 2007 Convention

Paul Valleli
Full Member
At the 2006 Stellafane Convention
Final Report
Will be posted at the conclusion of this class.
Back to the Main Mirror Class Page.