Directions to Stellafane
Where is Stellafane?
Stellafane is on Breezy Hill in Springfield, Vermont.
The photo at right is of the U.S. Geologic Survey marker on the south lawn directly in front of the Pink Clubhouse. It reads:
43° 16' 41.80" North; 72° 31' 10.11" West; 1,290 Feet Elevation
GPS and Mapping Address
211 Jordan Road, Springfield, VT 05156
Mail cannot be delivered to this address, there is no mailbox, use our post office box (see footer)
How to get to Springfield, Vermont
Springfield, Vermont is in the Connecticut River valley on the eastern edge of Vermont. It is north of Brattleboro and Bellows Falls and south of Windsor and White River Junction (I-89). The main highway serving Springfield is Interstate 91, and Springfield is at Exit 7 on Vermont Route 11.
If you wish to use your favorite internet mapping program to locate Stellafane, you should enter Jordan Road, Springfield, VT as the address to look up.
If you plan to fly, see our Airports page.
How to get to Stellafane
Stellafane is approximately 7.5 miles from I-91 Exit 7. See map below directions.
From I-91 Exit 7 take Route 11 West towards Springfield, and pass through the center of town.
At the Junction of VT-106 (approximately 4.5 miles from Exit 7), Route 11 turns left (west). Stay on Route 11, then pass McDonald's on your right.
As Route 11 begins to climb a long hill, pass under a yellow blinking light for the Springfield Hospital. It's time to start watching for Breezy Hill Road.
Make a left turn at Breezy Hill Road. Note that the Breezy Hill Road turn off of Route 11 is directly across from "Green Mountain Classic Cars", which is much easier to spot than the small road sign. If you see Bellows Road on the right, you've gone too far on Route 11. The turn is approximately 6 miles from Exit 7.
Head straight up the hill on Breezy Hill Road. You will pass Stellafane Road on your right (don't take this, it goes back down the hill to Route 11!).
The road will come to a "T" just past the end of the pavement -- make a right, continuing on Breezy Hill Road (Left is Monument Hill Road, a dead end). Usually, there are no road signs here.
At the top of the next hill, there is another "T". Breezy Hill Road continues to the right. You should turn left on to Jordan Road.
You will quickly come to a SHARP RIGHT turn -- be careful! Poor visibility.
All entrances to Stellafane are on Jordan Road -- see the next section for details.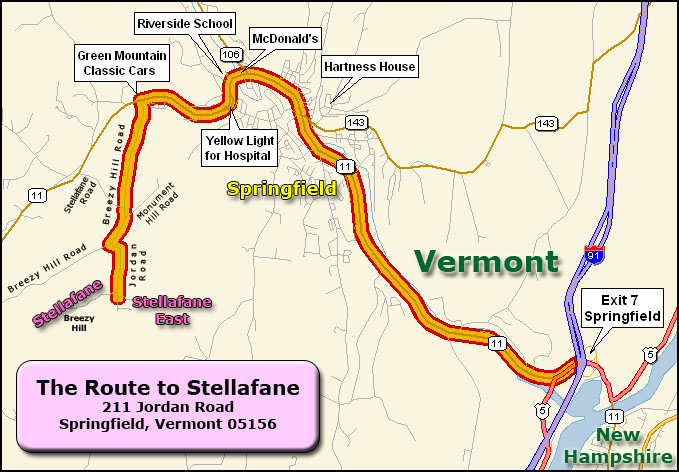 Finding your way around Stellafane
The Stellafane site is split into two parts:
The Original Stellafane Site is located at the top of Breezy Hill. The Pink Clubhouse and Porter Turret Telescope are up here, both part of the Stellafane Observatory National Historic Landmark. The way up to Stellafane is a right turn off Jordan Road near the crest of the road, through swinging steel gates. This site is approximately 8 acres.
Stellafane East is a large tract of new land located about 1/4 mile from the original site, a little further along Jordan Road, with several entrances which are all left turns. The McGregor Observatory, Domed Observatory, Bunkhouse (a former farmhouse) and Flanders Pavilion are located here. Approximately 80 acres.
See our About Buildings page for a pictorial guide to the major observatories and buildings at Stellafane and our Aerial Photomap for a birds eye view of our facilities.