2018 Stellafane Convention
The 83rd Convention of Amateur Telescope Makers on Breezy Hill in Springfield, Vermont, the 2018 Stellafane Convention, will be held Thursday through Sunday, August 9-12, 2018.
The 2018 Convention is dedicated to STM past president and long time member Walt Wheeler.
— This Page is Under Development —
Most information is missing - it should be nearly complete by May 1st
The information that is present and not grayed out is accurate for 2018

Registration will Open on or about May 1st
At that time you will be able to register for Convention and/or the Hartness House Workshop
2018 Convention Program Highlights
The Hartness House Workshop will be held on Thursday, August 9. This year's theme, organized in collaboration with members of the Antique Telescope Society, will return to the workshop's historical roots with a focus on antique telescopes, observatories, and related equipment.. Requires separate registration and fees. More...
Bring your Solar Scope - we will have designated times and places to set up for solar observing, and by having all the scopes in one area, conventioneers will be able to compare various solar viewing options.

Wondering if you should come to convention?
Take a look at this Informational Brochure (pdf) to see all we offer!
A great selection of speakers, workshops, demonstrations and events for every level: children, teens, beginners, intermediate and advanced amateur astronomers. Click on the link above to see everything going on during convention.
This year's theme, organized in collaboration with members of the Antique Telescope Society, will return to the workshop's historical roots with a focus on Antique Telescopes, Observatories, and Related Equipment.
Join us at Springfield's historic Hartness House, home of the Hartness Turret Telescope and the Hartness-Porter Museum of Amateur Telescope Making. Meals are included. (Separate Registration Required) Workshop attendees may set up at Stellafane on Wednesday July 19th from 12pm to 6pm without additional charge.
Registration for the Hartness House Workshop convention registration system. Please use the Convention Registration Link immediately below to register for either or both the workshop and the convention. Registration whould open on or about May 1st.
Register to attend the 2018 Convention and/or The Hartness House Workshop. We urge you to register now; it will save you money (as opposed to paying when you arrive) and it makes our planning much easier. (You must register for the Hartness House Workshop in advance). You can register online with a credit card (through PayPal, no account needed) or by e-check (PayPal account required). This is our preferred registration method, which we have improved this year to send you an instant confirmation e-mail when your payment completes. You may also register by postal mail, by printing out a form. Registration should open on or about May 1st.
Register to Attend Convention and/or The Hartness House Workshop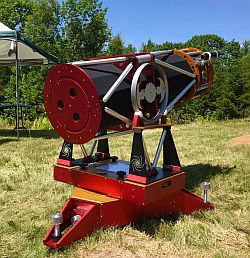 The Friday Informal Talks are always a lot of fun, and any convention attendee can sign up to make a short presentation, serious or not. Show off what you just built, show off your great astro-images, tell us about a new technique you are using when observing.
Sign Up to Give an Informal Talk
If you plan to enter a telescope in the Optical and/or Mechanical Competition, this page will provide the information you need and allow you to register your telescope.
Enter Your Telescope
A challenge to observe at least 15 deep sky objects, accessible in small to large amateur telescopes, has been developed for us by Larry Mitchell, who is in charge of the Texas Star Party Advanced Observing Program. Try your observing skills and earn a pin for your efforts.
Observing Olympics Details
A hands on class working in teams to construct Curiosity Rover inspired technology that will be demonstrated at the Convention. Attendance will be first-come first-served. If you are 100% sure your Teen (age 12-17) will attend the convention and will want to attend this event, then you'll need to get them on the list.
Sign up for Teen Program
When is Astronomical Twilight during convention? When does the sun set and the moon rise? Click to find out.
U.S. Naval Observatory Data in Eastern Daylight Time
Day &
Sun
Sun
Moon
Moon
Astro.Twilite
Date
Rise
Set
Rise
Set
Begin
End
Thu Aug 09
05:49
20:01
03:29
18:49
03:55
21:54
Fri Aug 10
05:50
20:00
04:39
19:41
03:57
21:52
Sat Aug 11
05:51
19:59
05:43
20:25
03:58
21:50
Sun Aug 12
05:52
19:57
07:10
21:03
04:00
21:48
This page contains important information about the convention, including lighting policies, pet policies, food service, on-site bus service and where to set up your telescope. Check this page for answers to any questions you may have.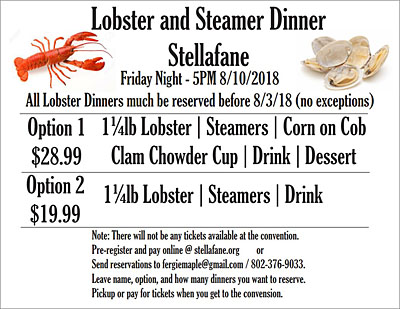 If you are not camping at Stellafane, you will need some place to stay. Here is a listing of Motels, Hotels, Bed & Breakfasts, and Campgrounds in the area.
Need to know how to get to Stellafane? Here are written directions and a map for after you get off the Interstate. We also have a site map of the convention area. See also Local Airport Information.
Both Lobster & Chicken Dinners must be pre-ordered this year. Please see details on the Food Services page, which also has the general menu available for your information.
---
Do you have convention questions we haven't answered?
Comments or suggestions about the program?
Please direct these to our .

Do you have a comment, question or suggestion about
the web pages or online registration process?
Please direct these to the .