Stellafane 2009-10 Mirror Class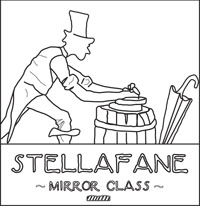 Announcements
This class is over. To sign up for a future Mirror Class, see the pink box on the Mirror Class Main Page. We expect the next class to start in October 2010. Please email any questions or corrections to mirrorclass@stellafane.org.
Schedule & Class Pictures
A photo album of a session is typically added to the table below within a week of when the session was held.
Schedule
Including brief notes about the session
Class Pictures
Click Image for Photo Album

0: Saturday, October 3, 2009:

10:00 - 4:00: Workshop
Pre-Class for returning students only

1: Saturday, October 17, 2009:

10:00 - 4:00: Workshop
10:30 - 11:30: Class #1:
Overview & Rough Grinding

2: Saturday, November 14, 2009:

10:00 - 4:00: Workshop
11:00 - Noon: Class #2: Fine Grinding

X1: Saturday, November 21, 2009:

10:00 - 4:00: Bonus Session

X2: Saturday, December 05, 2009:

10:00 - 4:00: Bonus Session

3: Saturday, December 12, 2009:

10:00 - 4:00: Workshop
11:00 - Noon: Class #3: Polishing

4: Sunday, January 17, 2010:

5: Saturday, February 13, 2010

10:00 - 4:00: Workshop
11:00 - Noon: Class #5: Testing

6: Saturday, March 13, 2010:

10:00 - 4:00: Workshop
11:00 - 1:00: Class #6: Constructing a Telescope

7: Saturday, April 10, 2010:
Mirror Status
Here is a report on our participants' progress:
Mirror Maker
*Club Member
Mirror
Size/Type
Focal
Ratio
Mirror
Status
Status
Date
Amit
8"
7
40u
11/09
Cecilia
8"
6
Figure
04/10
-Katie
6"
8
Figure
04/10
-Randy F
8"
6
Figure
04/10
-Sarah
4¼"
7
Rough
04/10
Claudio
8"
6
Figure
04/10
Dave T*
6"
10
Rough
04/10
-Samantha*
10"
5
Polish
04/10
David M*
8"
6
Polish
04/10
David N
8"
6
Figure
04/10
Dixie
6"
6
40u
10/09
Fran
6"
6
Done!
02/10
Fran
10"
6
Done!
03/10
Francis
12½"
Flat
22u
04/10
Glenn*
6"
5
Figure
02/10
Jeff L*
17"
5
220
02/10
Jeff W
8"
6
Polish
02/10
Jim*
8"
6.0
Done!
10/09
John
8"
220
04/10
-Nicholas
8"
220
04/10
Meredith
8"
120
12/09
Michael
8
6
Done!
04/10
Nancy*
6"
7
120
01/10
Paul S
6"
8
Rough
02/10
-Jean Z
8"
6
Polish
03/10
Peter
8"
6
120
01/10
Phil*
10"
4
Done!
01/10
Rick
8"
7
Polish
04/10
-Kayla
6"
Polish
03/10
-Terry
6"
Polish
03/10
Rob
8"
6
Figure
04/10
-Leonard
8"
6
120
04/10
Ryan
8"
7
Done!
01/10
Team Reilly
6"
4.2
Figure
10/09
Zhenya
6"
Polish
04/10
-Carl*
4¼"
8
Polish
04/10
-Tatiana
4¼"
8
Polish
04/10
37 Students
37 Mirrors
6 Done
Instructors
Thanks to our large group of volunteer instructors, we can hold these mirror class and give everyone the individualized attention they require. Several of our instructors work professionally in the optics industry, and many have competed dozens or mirrors and more complicated optics as amateurs.
Officers, Trustees and Full Members of the club have had to successfully made a mirror or other quality optical surface.



Jay Drew
Mirror Class Leader, Full Member
Eats #80 Grit for a Snack!




Tom Gorka
Full Member
Making Mirror Kits




Wayne Hilliard
Full Member & Treasurer
Uncrating a 16" Blank in the Bunkhouse




Rick Hunter
Full Member
Using the Foucault Tester




Dave Kelly
Full Member
Demonstrates Polishing Techniques




Jeff Lowe
President
Mechanical Judging at Convention




Carl Malikowski
Associate Member
With a Mirror he completed in 2009




Ray Morits
Associate Member
Showing a student how to Measure Saggitta




Jeff Parenteau
Associate Member
Jeff with a Mirror he just finished in 2008




Dick Parker
Associate Member
At the 2007 Stellafane Convention




Dave Prowten
Full Member & Trustee
Assembling the Domed Observatory




Phil Rounseville
Full Member
Making Pitch Laps at the 2001 Convention




Joyce Sinnot
Full Member
At the Foucault Tester




Ken Slater
Trustee & Webmaster
Explaining Foucault Testing




Dave Tabor
Full Member & Secretary
Making a Pitch Lap in the 2006-07 Class




Samantha Tabor
Full Member
At the 2007 Convention




Paul Valleli
Full Member
At the 2006 Stellafane Convention
Final Report
Another year of the Stellafane Mirror Class comes to completion in April 2010 and is archived to the history books. And what a wonderful class it was this year. Interest in amateur telescope making remains very strong and we (unfortunately) had to refer some prospective students to alternate mirror making venues due to our limitations in facilities. Even so, this was the largest, and most enthusiastic, group of mirror makers we have enrolled. Luckily we also had some dedicated new volunteer instructors to help keep things moving and fun. Since we had a large influx of beginning grinders in October we moved rough grinding down to the Flanders Pavilion. Dave Tabor and Ray Morits set up a great workshop there and the new students started slinging 80-grit. Through the autumn the rough grinding continued in the Pavilion with fine grinding in the Bunkhouse and polishing/figuring in the McGregor Library. For the first time in years we provided plate glass tools to some students, and these worked out quite well. Still, STM Trustee Ken Slater has already built up a stock of tile tools for next year's class, and we will return to this Stellafane tradition in the fall of 2010.
Our student body was quite diverse, with men, women, and children of all ages. We had some long distance commuters with several folks from New York and even a wonderful student flying in from Florida every month! Many of our mirror makers were happily working at home between class sessions, and several finished up using the zonal Foucault test on their own. As the cold weather set in, we moved operations to our winter home at the Fletcher House in Chester, Vermont. Many thanks to the Newsbank Corporation for providing this facility, and to Julie Tabor for her endless hard work in keeping the place clean and productive. Preceptor of Parabolas Dave Kelly continued to mentor students on the crucial final figures of their mirrors, and has outfitted his autocollimator with video to help groups analyze surfaces. Jeff Parenteau gave a detailed class in Foucault testing and Dick Parker brought his autocollimator to help with final figuring and also continued to encourage our Refractor Interest Group in their lens making. We had a rather large donation of professional grade polishing slurries from a local manufacturer and students began using appropriately pink colored cerium. All in all this was a terrific Mirror Class season. We will fold up operations for the summer while we work on getting Breezy Hill ready for the Stellafane Convention and will resume classes this fall.
As one experienced ATM instructor said, "Congrats on an awesome 2009 - 2010 Mirror Class! Most fun I have had with any mirror class group."
Attendance
Oct
3
Oct
17
Nov
14
Nov
21
Dec
5
Dec
12
Jan
17
Feb
13
Mar
13
April
10
Students
12
18
21
10
7
8
16
14
17
15
Instructors
9
9
10
7
8
7
12
13
12
11