Stellafane 2010-2011 Mirror Class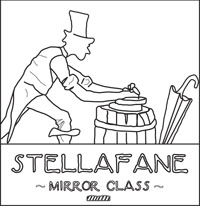 Table of Contents
Click link to jump to section
Announcements
This class started in October 2010 and is full.
To sign up for a future Mirror Class, see the pink box on the Mirror Class Main Page. We expect the next class to start in October 2011.
Please email any questions or corrections to mirrorclass@stellafane.org.
Schedule & Class Pictures
A photo album of a session is typically added to the table below within a week of when the session was held.
Schedule


Including brief notes about the session

Class Pictures


Click Image for Photo Album

0: Saturday, September 25, 2010 at Stellafane:

10:00 - 4:00: Workshop
Pre-Class for returning students only

1: Saturday, October 9, 2010 at Stellafane:

10:00 - 4:00: Workshop
10:30 - 11:30: Class #1:
Overview & Rough Grinding

B1: Saturday, October 23, 2010 at Stellafane:

10:00 - 4:00: Bonus Session

2: Saturday, November 6, 2010 at Stellafane:

10:00 - 4:00: Workshop
11:00 - Noon: Class #2: Fine Grinding

3: Saturday, December 4, 2010 at Fletcher House:

10:00 - 4:00: Workshop
11:00 - Noon: Class #3: Polishing

4: Sunday, January 9, 2011 at Fletcher House:

10:00 - 4:00: Workshop
11:00 - 1:00: Class #4: Auto-Collimation Testing

5: Saturday, February 5, 2011 at Fletcher House:

10:00 - 4:00: Workshop
11:00 - Noon: Class #5: Testing

6: Saturday, March 5, 2011 at Fletcher House:

10:00 - 4:00: Workshop
11:00 - Noon: Class #6: Making a Telescope

7: Saturday, April 2, 2011 at Fletcher House:

B3: Saturday. May 28 at Stellafane:

10:00 - 4:00: Mirror Completion (McGregor)
Students & Mirror Status
Here is a list of our students and their progress on their mirrors:
Mirror Maker


*Club Member

Mirror
Size
Focal
Ratio
Mirror
Status
Start
Date
Status
Date
Carl M*
4¼"
f/6
Done!
2009 Dec
2011 Apr
Claudio V
8"
f/6
Done!
2008 Sep
2010 Oct
Dan W
8"
f/7
Done!
2010 Oct
2011 Jan
Dave B
8"
f/7
Done!
2010 Oct
2010 Dec
Dave B
4¾"
f/7.5
Done!
2010 Dec
2011 Jan
David A
4¼"
f/4.5
Done!
-
2011 Mar
Erin D
8"
f/7
Done!
2010 Oct
2011 Apr
David N
8"
f/6
Done!
2009 Oct
2010 Jun
Fran E
12½"
f/4.5
Done!
2010 Oct
2011 Apr
George P
8"
f/7.25
Done!
2007 Sep
2010 Nov
Jay D*
8"
f/7
Done!
2010 Oct
2010 Nov
Meredith M*
8"
f/6
Done!
2009 Sep
2010 Nov
Orla D
6"
f/8
Done!
2010 Oct
2011 May
Rick K
8"
f/6
Done!
2010 Oct
2011 May
Rob B
8"
f/6
Done!
2009 Sep
2010 Nov
Samantha*
10"
f/5
Done!
2007 Sep
2011 Mar
Tatiana*
4¼"
f/8
Done!
2009 Oct
2011 Apr
Zhenya*
6"
Done!
2009 Oct
2010 Oct
David N
6"
f/7
Figure
2010 Oct
2010 Apr
Gary M
8"
f/5.8
Figure
2008 Sep
2010 Oct
Jean Z*
8"
f/6
Figure
?
2011 Feb
Katie S
6"
f/8
Figure
2009 Sep
2011 Jan
Michael P
6"
f/4.5
Figure
2010 Sep
2011 Apr
Amy & Steve R
8"
f/7
Polish
2010 Oct
2010 Nov
Dave T*
6"
f/10
Polish
2010 Sep
2011 Mar
David H
8"
f/7
Polish
2010 Oct
2011 Mar
David M*
8"
f/6
Polish
2007 Sep
2011 Mar
Dixie D
6"
f/6
Polish
2007 Sep
2011 Apr
Francis O*
12½"
Flat
Polish
2009 Sep
2010 Dec
Leonard B
8"
f/6
Polish
2009 Sep
2010 Nov
Wayne Z*
10"
Polish
?
2010 Feb
Eric F
6"
f/6
Rough
2010 Oct
2010 Dec
Josh R
24"
f/5
Rough
2007?
2011 Apr
Liz S.*
8"
f/10
Rough
2011 Feb
2001 Feb
Paul S*
6"
f/8
Rough
?
2011 Feb
Peter C
8"
f/6
Broken
2009 Sep
2011 Jan
Dave T*
4½"
f/10 Lens
R4 120
2010 Sep
2010 Dec
Ken S*
4½"
f/10 Lens
R4 120
2010 Oct
2011 Jan
Jim E*
4½"
f/10 Lens
Tools
2010 Oct
2010 Oct
Ray*
4½"
f/10 Lens
R3 120
2010 Sep
2010 Dec
Rick H*
4½"
f/15 Lens
Rough
2010 Sep
2010 Dec
Optics
Done
Figure
Polish
Rough
Other
36 Mirrors
18
5
8
4
1
5 Lenses
-
-
-
4
1
Instructors
Thanks to our large group of volunteer instructors, we can hold these mirror class and give everyone the individualized attention they require. Several of our instructors work professionally in the optics industry, and many have competed dozens or mirrors and more complicated optics as amateurs.
Officers, Trustees and Full Members of the club have had to successfully make a mirror or other quality optical surface.



Jay Drew
Mirror Class Leader thru Feb 2011
Full Member
Eats #80 Grit for a Snack!




Wayne Hilliard
Full Member & Treasurer
Uncrating a 16" Blank in the Bunkhouse




Rick Hunter
Full Member
Using the Foucault Tester




Dave Kelly
Full Member
Demonstrates Polishing Techniques




Jeff Lowe
Full Member & President
Mechanical Judging at Convention




Carl Malikowski
Full Member
With a Mirror he completed in 2009




Ray Morits
Mirror Class Leader from March 2011
Full Member
Showing a student how to Measure Sagitta




Jeff Parenteau
Associate Member
Jeff with a Mirror he just finished in 2008




Dick Parker
Full Member
At the 2007 Stellafane Convention




Phil Rounseville
Full Member
Making Pitch Laps at the 2001 Convention




Ken Slater
Full Member, Trustee & Webmaster
Explaining Foucault Testing




Dave Tabor
Full Member & Secretary
Making a Pitch Lap in the 2006-07 Class




Julie Tabor
Full Member
Grinding a Mirror in 2008




Samantha Tabor
Full Member
At the 2007 Convention




Paul Valleli
Full Member
At the 2006 Stellafane Convention
Final Report
People: This year it's all about people. People finishing their mirrors! At the end of the class season we had 18 mirrors completed, a record for the Stellafane Mirror Class. This class seemed to be inspired, there was so much positive energy present and so many mirrors finished. Class members included a student from Bennington College, a National Park Ranger, home schoolers, a plumber, teachers, IT pros, an architect, a graphic designer, an attorney, a classic car restorer, a karate sensei, a physician, children, a massage therapist, a postman, and retired folk. "Life long learners" all.
Mirror class leadership changed over from Jay Drew, who had inherited a smooth running mirror class from Ken Slater 5 years ago, to Springfield Telescope Maker and new Class Leader Ray Morits. Ray brings lots of enthusiastic new ideas to the mirror class and will be a great class organizer and leader. Thanks to our dedicated Instructors, many of them have been donating their time and talent to the project for extended periods now.
Equipment: This year saw new mirror class tee shirts for students and instructors with fun graphics designed by STM Matt Considine. This summer we spent several full days making up a batch of 16 Parker Barrels, which have served the class very well. After purchasing plate glass grinding tools last year, we returned this year to using our favorite tool material. Thanks to Webmaster Ken Slater, who also has the alternate title of Chief Dental Stone Tile Tool Builder, as he has stockpiled enough tools to last into next year. For several years we have anticipated a shortage of Pyrex mirror blanks, and it looks like our stock of this glass is dwindling. Next year will see some changes in the mirror substrate we use during class, most likely changing to the new (and more expensive) Supremax 33 that is replacing Pyrex.
Facilities: Our Site Manager John Martin and others have been very busy working in the Flanders Pavilion. John and his crew have been using our new sawmill and trees harvested at Stellafane to build a freestanding workshop inside the Pavilion. This will be a great asset to the club and to the mirror class. Fletcher House in Chester was again generously provided as a winter home by the Newsbank Corporation. Many many thanks to them for this facility which makes mirror making possible during the winter. Here in Vermont a beautiful but short autumn led to a cold, snowy, and icy winter. The Stellafane grounds by spring were buried in fallen trees and branches, which will keep us busy cleaning up until Convention.
Website: The stellafane.org website is an integral tool for our Mirror Class and for ATMs world wide. Aside from this specific mirror class page you are reading now, Webmaster Ken Slater also spent an extraordinary amount of time on the Mirror Making portions of the website. Enhancements in that section include a Testing Overview as well as a terrific guide to Reading Ronchigrams and pages about Autocollimation and Mirror Quality. He also added some very interesting historical information on Stellafane Conventions from years past. If that isn't enough, Webmaster Ken has completed work on and published Newt-Web, a powerful Newtonian telescope design tool that works "in the cloud." He did all this while actively teaching and mentoring students in each session of the mirror class. Thank you and congratulations, Ken!
Class mirrors were fast and slow, small and large, ranging from f/3.75 to f/9 and from 4 inches to 24 inches. During all the grit and pitch slinging, only one mirror was damaged this year, when a careless move knocked a large clamshell chip from the edge of an 8" blank. For once there were no significant scratches to be seen. Glass fabrication techniques included coring out glass tools with diamond cutters, motorized lens edging, as well as the usual hand work. Testing was done with Foucault (knife edge and ronchi), Autocollimation, Ross Null, Newton's Interferometry, and Bath Interferometry. Interesting but rarely seen techniques such as the Acetone Test for flats were demonstrated. We even had a grinding tool made of 5¢ nickels.
Refractor Interest Group: There are five 4½" achromat doublets in progress using several different designs. Much of the work on the lenses has been done by the members at their own homes, as well as during field trips to Dick Parker's home workshop in Refractorville, CT.
Stats:
18 mirrors were finished this year, with 9 completions from new 2010 students (start to finish in one season)
5 refractor lenses are in progress using Stellafane-brewed optical designs
6 mirror completions were from STM club members
5 kids completed
5 women finished
4 students joined the Springfield Telescope Makers as Associate Members and two youth Members qualified for Full Membership
14 beards were in attendance, this being Vermont
Conclusion: This was a fantastic, engaging class full of interesting people. We are delighted to report a record number of very high quality mirrors were completed this year, and we hope to see many of them mounted and on display at Convention this summer. We welcome Ray Morits to his new position as Class Leader. Until next fall, mirror class is adjourned.
Back to the Main Mirror Class Page.