FEATURED ITEM
Historic
Convention Photos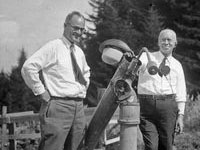 Photos and an occasional movie
from 1926 to 1999 -
Which do you remember?
The 2014 Stellafane Convention
will be held Thursday through Sunday July 24-27.
Registration is expected to open in early May.
Stellafane will be at NEAF
If you are planning on attending the North East Astronomy Forum on April 12-13, please stop by and say hello at the Stellafane booth. We will be demonstrating mirror making and can answer questions you may have about attending the 2014 Convention. [NEAF Website]
95-cm Boller & Chivens from Princeton moved to Colorado
See photos and reports - now complete.

More News...

Find what you need on our
Our Links Page features thousands of categorized
links to telescope making and optics fabrication topics.
Our most visited page year-after-year!
---
Use our
to grind your own Newtonian telescope mirror.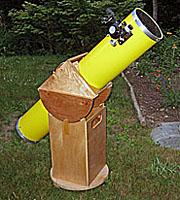 Build a Telescope!
Complete plans for a
Newtonian Optical Tube
and a Dobsonian Mount.
Build with homemade or purchased components
(or a mix of both).
New Solar Filter Plans