About Stellafane
About Us
We are The Springfield Telescope Makers, Inc., an active Amateur Astronomy and Telescope Making club located in Springfield, Vermont. We put on the annual Stellafane Convention in July or August, hold Mirror Making Classes in the Fall and Winter, and usually hold a few Public Star Parties each year (check our Events calendar). Founded by Russell W. Porter in 1923, and considered by many to be the "Birthplace of Amateur Telescope Making", we have a rich History.
About Stellafane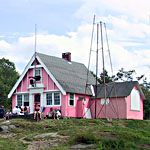 Stellafane is the contraction of two Latin words: stellar means star, and fane means shrine.
Stellafane is therefore literally a Shrine to the Stars.
Stellafane is the name of our Clubhouse, located the summit of Breezy Hill in Springfield, Vermont. It is also the name of our annual Stellafane Convention. The Stellafane Clubhouse and Porter Turret Telescope and the land on the summit of Breezy hill comprise the Stellafane Observatory National Historic Landmark. However, the term Stellafane has also evolved to mean to refer to all the club's land and buildings on the summit of Breezy Hill, or to the club itself, which is properly named The Springfield Telescope Makers, Inc. See our Aerial Photomap for an birds eye view of our facilities.
About the Springfield Telescope Makers
We are a club of about 125 members, and unlike most astronomy clubs, our members are geographically dispersed, with most members spread over the New England and mid-Atlantic states. We hold monthly meetings at Stellafane, usually near a new moon weekend for best observing opportunities. Most meetings are open to visitors, check the Events calendar and then please contact us if you would like to visit (see Directions). Our current officers and board are:



Dave
Tabor
President




Ken
Slater
Vice President




Jay
Drew
Secretary




Glenn
Jackson
Treasurer




Gary
Cislak
Past President




Kris
Larsen
Trustee




Francis
O'reilly
Trustee
About the Stellafane Website
Stellafane has been on the web since 1994 (see Web History) and provides information about club activities and information useful to Amateur Telescope Makers world wide. In 2006 we redesigned and updated the site (see About Our New Look). We have reorganized our pages into logical groups in the hope of making navigation around out site much easier. We also now have a Site Map so you can see all our pages at a glance, and quickly jump to any one of them. We also have a Site Update Log so you can see what is new or updated. In addition, a Google Search of just the Stellafane site is available in every page footer.
In September 2007 we switched our primary domain to be .org moving from the .com domain. We did this because we are a non-profit organization, and not a commercial entity, so this switch aligns us with our status and corrects a historic mistake. Stellafane.com will continue to point to the same website as our primary Stellafane.org does, so all those old bookmarks will still work, but we would like to be known as Stellafane.org now. By the way, the prefix "www" is completely optional also, it will work but is not necessary. We suggest you use https://Stellafane.org/ to reference us.
In September 2017 we have changed the website to use SSL (Secure Sockets Layer) on all page, and therefore our web address is now HTTPS://Stellafane.org. The web server will automatically convert connections to HTTP to HTTPS, so you there should be no inconvenience to you.
Our pages are laid out for a width of 760 pixels, which should fit easily on an 800 pixel wide monitor. The Stellafane web site is tested to be compatible with the latest versions of Internet Explorer, Microsoft Edge, Firefox, and Chrome. It should work with most any current browser. We also test selected pages on iOS and Android portable devices and make sure they work acceptably there - we do not provide mobile specific versions.
Many portions of the site rely on JavaScript being enabled; JavaScript is built in to and comes with the above listed browsers (and many others). We also use Cascading Style Sheets, so if your browser does not support these, the site will look very bad, although all the information should be present.
We do not need cookies, although our random image code will write a cookie to remember what you were looking at, should you view the large image and then come back to the same page within 1 minute. All of the cookies we write expire within 1 minute, nothing is kept on your machine for longer than that. If you have cookies turned off, you will just get a new set of random images upon return, so you are not losing much.
Many people ask how big our site is. We now have a How Big is the Stellafane Website? page to answer that question.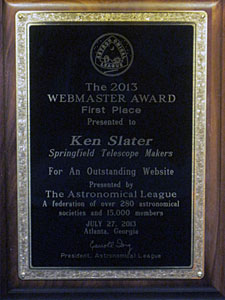 Stellafane Webmaster Ken Slater was awarded first place in 2013 and second place in 2007 in the Astronomical League's Webmaster Awards. The award is given to "ac­knowledge the club Webmaster who does an outstanding job of website design and administration." Ken started creating the ATM pages in the late 1998 and became webmaster in January 2006.

Jay Drew has worked for many years on creating and curating the Links page - our singly most viewed web page year-after-year. In October 2015 he became Assistant Webmaster, and is currently responsible for both the Links page and our Telescope Making Class pages.

Patrick Dodson lives in Canada and it is a two day drive for him to get to Stellafane. So being an assistant webmaster is an ideal job for him, as he can work remotely with ease. Patrick is currently responsible for the Stellafane Home Page, the News & Calendar pages and the Member Activities page.
Facebook & Twitter
There is an an official Stellafane Page available on Facebook (you need to be a Facebook member to see it), You can also Follow us on Twitter.
Would you like to be reminded when Convention Registration opens? Or when Stellafane will hold a free public Star Party? If so, the Stellafane Announcements mail list if for you!
Affiliations
The Springfield Telescope Makers, Inc. is a member of: We strongly encourage you to support the IDA!
Local Friends
We appreciate the friendship and support our local friends have extended to Stellafane over the years:

The Hartness House


(Home to our Museum)


Vermont
Astronomical
Society


New Hampshire
Astronomical
Society


The Amateur
Telescope Makers
of Boston


Vermont
Astronomy
Directory


Southern Vermont Astronomy Group
Directions
Please note that Stellafane is not open the public except during public events. If you would like to visit at other times, please contact us for information on when you can come and find someone present to show you around. Most of the time the facilities and gates are locked. Look here for Directions to Stellafane and here for an Aerial Photomap of our property. If you are flying, see our Airports page.
e-Mail
Postal Mail
The Springfield Telescope Makers, Inc.
P. O. Box 601
Springfield, VT 05156 USA
Copyrights, Trademarks & Legal Information

The entire Stellafane website and its content is Copyright © 1994- by The Springfield Telescope Makers, Inc. All right reserved; commercial use prohibited.
The Stellafane 'Little Man' logo (one rendition shown at right) is a ® Registered Trademark of The Springfield Telescope Makers, Inc. It may not be used without the explicit written permission of The Springfield Telescope Makers.
For the convenience of our readers, we provide links to other web sites that offer additional or supplementary information to that provided on our Stellafane website. The inclusion of an off-site link does not imply an endorsement of the linked website by the Springfield Telescope Makers, and we are not responsible for the content, or its accuracy or completeness or any opinions expressed by the linked site.