Stellafane Convention Main Page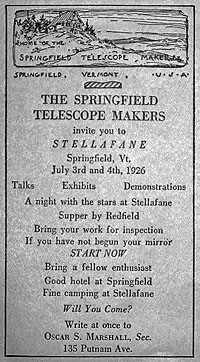 Current & Future Conventions
The 2018 Stellafane Convention will be held Thursday through Sunday, August 9-12
2019 Stellafane Convention
The 2019 Stellafane Convention will be held Thursday thru Sunday August 1-4.
Convention Reminders
Sign up for our Stellafane Announcements mail-list to receive an e-mail reminder when convention registration opens in the spring.
About the Stellafane Convention
The Stellafane Convention is a gathering of amateur telescope makers. The Convention was started in 1926 to give amateur telescope makers an opportunity to gather to show off their creations and teach each other telescope making and mirror-grinding techniques. All telescopes, commercial and homemade, are welcome. If you have made your own telescope, we strongly encourage you to display it in the telescope fields near the Stellafane Clubhouse. If you wish, you can enter your homemade telescope in the mechanical and/or optical competition. There are also mirror-grinding and telescope-making demonstrations, technical lectures on telescope making and the presentation of awards for telescope design and craftsmanship. Vendor displays and the retail sale of commercial products are not permitted.
Previous & Historic Conventions
We have posted reports, photos, and videos from prior conventions for the following years:
Other Convention Items: