Build a Mirror Tester
A Foucault or Knife Edge Tester and Ronchi Tester
Page 4: After Thoughts
Note from the Webmaster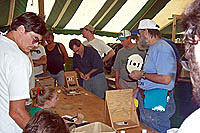 In 1998 I was a student in the Stellafane Mirror Class. I brought a plywood tester I had made to class, and everyone there agreed it was easy to use and looked simple to make. Maryann Arrien, then President of the club, commissioned me to make 3 more for the club's use. At that time, Tom Spirock was club Webmaster, and was talking with me about doing some ATM pages for the club website. So I combined the projects, built three more testers, documented the process with a film camera, and in March 1999 published these tester plans on the Stellafane web site.
Since then, I became a member of the Springfield Telescope Makers, spent several years creating the ATM pages for the club website and leading the mirror class. In 2005 I turned mirror class leadership over Jay Drew, and became club webmaster as Tom Spirock moved on to other things.
And all along, for over 10 years, the e-mails just keep coming in from people who have built this little "Stellafane Tester". When I published it on the web in 1998, there were no detailed, dimensioned plans for a tester to be found on the web. I'm not sure there are any others today. Certainly some have suggested these plans are too detailed, but I think the popularity of the tester speaks for itself. And thanks to all those that have sent along photos of their tester, I enjoy seeing these, and everyone I get will be posted in the gallery at the bottom of this page.
Ken Slater, Stellafane Web Master, Stellafane Mirror Class Instructor and Stellafane ATM Page Author.
Light Sources
The LED I specified in the original design is no longer carried by Radio Shack. Here is some advice about what to substitute:
The key parameter for the LED is brightness - how much light does it put out? This is measured in mcd (milli-candella) and should be at least 350 mcd. The physical size of the LED is not important. While I prefer green, as it is near the center of the visible spectrum, any color will do. I haven't tried white LEDs as I understand these emit light at multiple discrete wavelengths, so I can't comment from experience about how these might work in the tester (a "white" bulb emits more of a continuous spectrum). I suspect that they will work fine.
RadioShack.com currently lists (Jan 2009) a number 276-304 green (570 nm) LED with 620 mcd brightness for under $2.00. It claims it is stocked in the stores, although my local outlet doesn't have it. This should work fine, and as a bonus it is physically smaller at 5mm diameter than the original part which was 10mm.
The electrical specs of this LED are 2.1 volt typical, 2.8 volt maximum, and 30 mA maximum (half the value of the original LED). Working through the equations given on Page 3, we get a resistor value of 6.7 ohm. Radio Shack sells a 5-pack of 15 ohm resistors in its stores - two of these in parallel will yield 7.5 ohm, which is close enough.
You could check other small quantity electronics distributors for a suitable LED if you wish to mail order. You might try:
Brien Stratton wrote that he successfully used a Mode Electronics #55-555HB green LED with 900 to 1500 mcd brightness. Because this is so bright, Brien added a 100-ohm potentiometer (variable resistor) in series with LED so he could dim it to comfortable levels. You still need to include, in series, the fixed current-limiting resistor, which for this unit he calculated to be 5 ohm (Brien used two 10 ohm resistors in parallel to get this value). Check the Mode Electronics web site to see if a local distributor is in your area.
Other ideas if you want to buy something locally:
Use a mini-Maglite® bulb which you should be able to buy a local hardware or discount store. Wrap bulb with "invisible" tape to frost it and diffuse the light. Mounting is left as an exercise for the inventive ATM. No resistor needed.

Drill a hole in the side of a mini-Maglite® so that the light from the bulb shines out through it (better remove the bulb when drilling :-) ). Blacken the normal beam exit, and use clear "invisible" tape over the new hole to diffuse the light. Mount the assembly using cable clamps or cable ties, allowing room to rotate the nose piece which is also the switch. No electrical work is necessary for this design.

Remove the super bright LED from one of the keychain style flashlights, such as those made by Photon, Princeton Tec and others. Note that these normally run on small "coin cells" and do not included a current-limiting resistor. This is probably because the coin cells have sufficient internal resistance to limit the current. If you hook such an LED up to a bigger battery, such as a pair of AA or larger batteries, you may need to include a current-limiting resistor. Since these LEDs should be more than bright enough, I'd suggest inserting a 5 to 10 ohm current limiting resistor in the circuit if you plan to use large batteries.
Nose and Chin Room
The tester was designed with a large flat panel on the head to facilitate initial alignment when working alone. However, some people find it somewhat difficult to get your eye really close to the knife edge, as your nose, chin (and beard in my case) tends to bump into the back of the tester. Not surprisingly, some people choose to modify the tester to avoid this clearance problem. Michael Burr wrote to me that he now uses this design:
"There are many possible approaches to a better Knife Edge/light-source holding design, but the one that worked for me is to take a thin piece of aluminum sheet, about 2" wide by 6" tall, and screw it to the right-hand upright support in place of the 1/4" plywood. Then attach revised (shorter) sliders to accommodate the Knife Edge and Ronchi slides, and affix the light source to the lower slider in the same manner as prescribed on the original design.

"If the now-single upright support isn't sufficiently sturdy, it might be necessary to brace it with a small triangle of wood at its base. But otherwise the left upright support basically becomes superfluous in this design revision..."
Another approach is just move the knife edge and source to one edge of the test head, or cut away a portion of the flat panel for nose clearance.
Alignment Laser Idea
Barry Jensen of Windham, NH writes that he used a punch to dimple the copper pipe that holds his alignment laser. He can then push the laser on button under the dimple to hold it on while he lines up his tester.
Notes on Using the Tester
Eventually, there will be a complete page devoted to testing procedure. But for now, I'll put answers to common questions here that I receive through e-mail or in person at convention or our mirror class.
How Much of the LED should the Knife Edge Cut?

The simplest and most direct answer is half; Center the knife edge on the LED. As you will find, this is not a critical adjustment, and you can control the overall mirror brightness by varying how much of the LED you cover with the razor blade. But novices should start with approximately half the LED covered, and they should be able to get a clean, bright image to work with.

How do I use the Ronchi Grating?

Center the Ronchi Grating over the backboard opening, so the the entire LED shines through it. The grating should be oriented with vertical lines. You will find it is easier to set up and align the tester with the Ronchi grating, so you may want to start out using it. When you are exactly at Radius of Curvature, there will be one dark and one light band on the mirror. If you are inside or outside R. o. C., then there will be more bands the farther away you are.

Most Ronchi testing is done inside R. o. C. so that five to fifteen bands are visible on the mirror. Perfectly straight bands indicate a perfectly spherical mirror. Using the stage tilt adjustment, you can make the bands scroll horizontally over the mirror, which makes subtle curves in the bands easier to see. Edge defects are common, and the Ronchi test is excellent for highlighting these defects. With the Ronchi Screen Inside R. o. C., bands that hook inward toward the center of the mirror indicate turned down edge, if they hook outward you have a turned up edge. It is hard to make quantitative test with the Ronchi Screen, and to measure parabolas - use the Foucault test for this.
Photo Gallery
Have you built a Stellafane Tester? We'd love to see a picture of it. E-mail a photo of your version to the webmaster using the link in the page footer below. We will publish the photos here.