Historic Convention Programs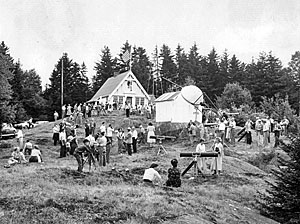 On this page you will find historic convention programs, from Stellafane Conventions starting in 1954 to the present, thanks to the efforts of our club historian, Bert Willard. Bert has taken high resolution digital photographs of his personal collection of convention programs. His first convention was 1954, hence the start of this collection. These images have been packaged into PDF files for each year.
The first Stellafane convention was held in 1926; you can read about it on history pages, where we also have a memoir from the 1930 convention. During World War II and for some time after conventions were not held or were not held annually. 1954 is the first post-war convention in the current series of continuous annual Stellafane Conventions.
Starting in 1995, the programs were expanded with additional information. More than a program, they contained much additional information for attendees and spanned more than two pages; these we call bulletins. These are produced by Tom Spirock who now coordinates our convention program. From 2000 on, we have the original PDF files, not photographs of them.
Prior to 1954, we only have a very few artifacts for posting on the web. The table below will have links to whatever we have available (If you have material from this era you would like to see on our web pages, please contact us -- we would be very happy to host it here). White cells with boldface years indicate a year the convention was held. Gray cells are years the convention was not held (or not yet held for the current & future years).
We also have a Historic Convention Photos page and a Convention Telescope Competition Winners page to compliment this page.
Thanks to Dave Groski for the 1927 Announcement.
Back to the Stellafane Convention Page